How to reach Amalfi coast? I suggest use of flight to Naples, then we strongly recommend renting a car. In this way you get to know a beautiful coast, which is due to its beauty and world-famous.
Travel to Amalfi Coast
Amalfi Coast is a UNESCO World Heritage Site. It is known by its cliffside villages upright vineyards, orange lemon and olive plantations. The beginig of Amalfi coast is small town Positano. The coast continue through Praiano, Amalfi, Vietri Sul Mare, Maiori, Ctara and Ravello. The Amalfi Coast is a must-do drive that runs along the southern coast from Positano to Vietri Sul Mare. It consists of thirteen towns, and although it is a fare distance from the the hub of tourism in Italy, it is well worth the trip.
You can start your trip in Sorrento which is famous by its lemon-tree-lined streets. , make your way along the cliff-clinging roads that follow the unrelenting shoreline of turquoise waters. Do'nt miss a chance to taste famous limoncello liqueur while enjoying views across the bay of Naples. The views become more and more impressive when you approach to the town of Amalfi. Along windy coastline, steep rocky slopes rush down to the sea, and tiny villages with colorful houses packed closely together cling to the rugged cliffs. The views on the way back from Amalfi to Sorrento are just as picturesque as they were on the way there.

When travel to Amalfi coast
The Amalfi Coast which is about 40 km away from Naples, is target of many traveler.Despite overcrowding at the peak of summer, traveler and visitors come for the promise of relaxation, fine dining and plush inns. You need just a bit of plannig your vacation to try to evade of the crowds in main season and finding your promising piece.
You can enjoy vacation on Amalfi Coast all year-round. In the summer months when it's hot the most tourists tend to visit the Amalfi Coast. A great time to travel to the Amalfi Coast is in the spring before the tourist crowds are densest and it is still warm enough to scooter to a random spot for a swim before setting off on the open road again. .

Choose your base and getting arround
If you plan your tour to Amalfi coast then you are unsure where to stay. Here are some nice places which could be your base for a trip along Amalfi coast.
Positano is popular for its central location, restaurants, and charming beauty. Despite these charms, some might find the peak season crowds, prices, and stairs overwhelming. Positano town is spread out over one of the slopes of Mount Comune. Looking down at the town from above, the eye becomes enchanted by an network of narrow and picturesque steps.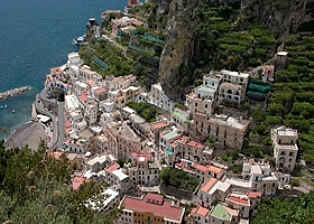 Ravello is relatively out of the way and about 10 minutes car ride uphill from Amalfi. There are several hikes in the area
Ravello is an enchanting village perched on a ridge high above Amalfi and the neighboring town of Atrani. It's relatively out of the way and from the town you can enjoy ultimate view that you see on posters It is a trip that is well worth taking. There are some very nice hotels - especially Villa Cimbrone with his wunderfull gardens.
Another picturesque town is Sorrento which is situated on southern side of Amalfi peninnsula.. Sorrento at first look looks like chaotic and loud town. There are several attractively priced hotels in Sorrento for those trying to save, off course there are also some great spots like hotel Excelsior Vittorio with its beautifull gardens. At the evening you can take a stroll through the streets of Sorrento enjoying the warm weather, the colorful shops and view to the sea.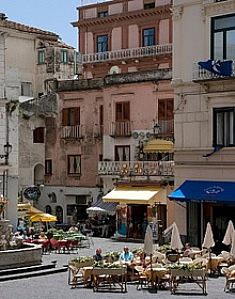 Amalfi is the Amalfi Coast's largest city, but it's still small enough to feel intimate. It is a convenient base for excursions to Capri and the Grotta dello Smeraldo. The town is romantically situated at the mouth of a deep gorge and its Duomo is impressive. There are two romantic village annexes at the luxurious Santa Caterina. The Piccolo Paradiso is bright and homey.
Plan also day for a trip to to the Capri island. Capri is a beautiful place and worth of visits. In the town of Capri are located most of the restaurants, shops and bars were. it's nice to walk through the stoned streets with small shops. You can take a walk to the 3 km far away town Anacapri, off cource you can also take a bus or taxi.