Holidays to Italy are always very interesting, especial italian island Sicily. Here we can see famous mount Etna volcano which is still active. It lies on east side of the island about 20 km from Taormina town. Coast near Taormina is a great starting point for exploring two attractions of Sicily: mt Etna Volacno and Alcantara Gorge.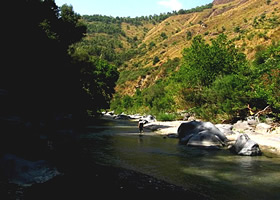 A trip from Taormina to Alcantara Gorge
Mount Etna can be seen also from the Greek Amphitheater in Taormina. Sicily has no major rivers, only some small rivers, for example rivers Alcantara and Simeto are very interesting, they can be found on the Ionian side of Sicily. Alcantara river is especialy interesting because of
gorge with vertical basalt cliffs
uncommonly forms and samples.
In the past one of the small craters named Mogo had the eruption. The erosion of the river transformed it in a canyon when magma cooled down and formed into a prism balastic high walls. The river offers tourists many beautiful sights like water falls, vertical basalt cliffs of whimsical forms and numerous shallows.
Alcantara Gorge - attraction of Sicily
For a lots of tourists mt. Etna, Taormina and Alcantara Gorge are the most interesting sights and attractions on the island of Sicily. Alcantara Gorge is over 50 m deep and its canyon is filled with lava. The river offers tourists many beautiful sights like water falls, vertical basalt cliffs of whimsical forms and numerous shallows. Over 50 meters above on the narrow tongue of water can be seen the stone cliffs, which forms hexagonal and pentagonal prisms.
Tourist can hike through gorge, this a great opportunity to admire overall view on the initial part of the gorge. There are specially areas provided for free-camping. The water in Alcantara river becomes lower during the period from May till September. This is the perfect time for batheing in the river, and many tourists use this cool water and enjoy batheing in its pure stream. Even in summer months the water is very cold and fresh. For those who wanted walk through some parts of the gorge, they can hire waders.

Trip to Alcantara Gorge
The Gole dell'Alcantara - Alcantara gorge is not only gorge it is beautiful natural landscape and attraction for many visitors. Around 2400 BC this natural monument of balast rock was created by the eruption of the volcano Monte Moio. The entire valley of the Alcantara river was flowed by lava, right to the place where the first colony in Sicily was founded by Greeks.
How to reach Alcantara Gorge
Our first destination was the »Gole di Alcantara. Following the main road inland (185) from Taromina-Giardini Naxos we reached after 13 kilometresto Alcantara complex. We parked our cars and entered to see the strange rock formations and the river. We took a simple 20 minute long trip tour. To see interesting rock formations tourists must try several sets of stairs to get down to the riverbed. This entrance could be also seen for free, just by using different paths. Near the roadside we saw a stand, which was acutally the tourist information office for this area. Here we supplied us with more informations about the villages surrounding Mount Etna and many other brochures, the service here was very good.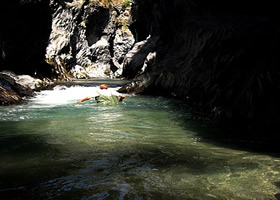 What to do in Alcantara Gorge
The gorge can be reached by modern elevators. The use of wading boots is recommended to reach the entrance of the gorge. Wade boots can be hired at the site, they are very useful protection againts spiky rocks and icy water. For those who are unfamiliar with the area and for non-experts the gorge is always a very dangerous place. Tourist can enjoy in traditional food, restaurants, bars, farm holiday facilities. For accommodation is also taken care so people can stay the night and buy some delicious food prepared with old recipes. The Gorge of Alcantara is a popular family visit stop. This is a great place where the Alcantara river forces a passage through a narrow cleft. Even in July the water here is freezing cold. Here you can hire a pair of waders (simmilar as fishing waders-boots) and then you go down with an elevator. On the beach you can wade up to the stream as far as you wish or dare. On the path can be seen great waterfalls. For people who are adventures this can be the highlight of the summer, a refreshing experience.