Travel to Sardinia is easier now than before 20 or 30 years because there are many direct flight and ferry options. We would recomended hiring a car on vacation in Sardinia,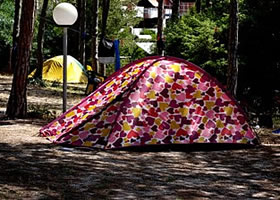 because it is difficult to discover the beauty and interesting sites of island with local buses or train. Hiring a car is the best way to get out and about, giving you the freedom to explore the island at your leisure.
By car, it only takes a few minutes to escape from the crowded tourist resorts into the untouched countryside, secret places with beaches near colorfull coastline.
Holidays to Alghero
During the summer holidays Alghero and its surroundings is perfect place for accommodation in camps, hotels or villas. Sardinia with their scenic beaches offers visitors great refreshment and sunbathing and for those more active who like discover or explore landscape and towns there are historical places with Sardinia autentic nuraghi and charming small coastal towns.
Sardinia is a very scenic island, so you should not be satisfied only with a visit of the hotel's beach or the beach below the your camp. Roads between coastal places and main towns around Alghero or Castelsardo are well connected, so you can easily reach all parts of the coast of this area, find the beach and explore the countryside around.
Explore Sardinia
If you stayed in Sardinia, then you are definitely a lover of beautiful beaches. But Sardinia offers much more than only beaches (Spiaggia). Its inland in this area is worth of your attention. Sea city of Alghero, is certainly one of the most beautiful in Sardinia, you will be impressed with their old urban core.
For some, strolling through narrow streets and small shops of Castelsardo town should be the right place, however, we should not forget the Sassari.
The landscape of this district is very attractive because of the trees from which bark use for the manufacture of cork and fertility of ground with great wheat fields.
The coast around Alghero
The coast and especial the beaches around Alghero are things that really worth a visit. There are some must see poitns like fascinating Stintino beaches with Spiaggia della Pelosa and long white beach Spiaggia delle Saline, Porto Torres with Spiaggia Platamona, Castelsardo, Capo Caccia, beaches near Alghero like Bombarde, Spiagga X, Spiaggia di Mariapia, Lazzareto, and near Capo Caccia Spiaggia Mugoni, Cala Viola, Porticciolo with great camping place,and more than kilometer long spiaggia Porto Ferro, Spiaggia di Limpianu .. Take your Road map of Sassari and Alghero and discover landscapes and beaches of Sardinia