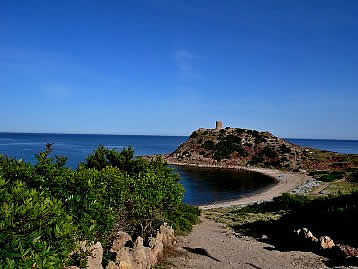 Cala Porticiolo Sardinia
About 10 kilometers north of Alghero is a small bay with a tower on the hill above it - Cala Porticciolo. 50 meters above the bay is also a camp and village with bungalows and restaurants. Location is excellent as a starting point for a trip to the Cape Capo Caccia which is from camp about 12 kilometers away.

The campsite and the beach of Porticciolo
The campsite is located in a nice shade of planted pine trees and flowering oleanders. You can find also a swimming pool for refreshment. You need small walk to the beach. After five minutes you are on small bay with dark blue sea. On the beach dominate fine sand and rocks. The most picturesque event is the sunset, because of the sun sunsets just over tower over the bay.
Explore Sardinia
If you stayed in Sardinia, then you are definitely a lover of beautiful beaches. But Sardinia offers much more than only beaches (Spiaggia). Its inland in this area is worth of your attention. Sea city of Alghero, is certainly one of the most beautiful in Sardinia, you will be impressed with their old urban core.
For some, strolling through narrow streets and small shops of Castelsardo town should be the right place, however, we should not forget the Sassari. The landscape of this district is very attractive because of the trees from which bark use for the manufacture of cork and fertility of ground with great wheat fields.
The coast around Alghero
The coast and especial the beaches around Alghero are things that really worth a visit. There are some must see poitns like fascinating Stintino beaches with Spiaggia della Pelosa and long white beach Spiaggia delle Saline, Porto Torres with Spiaggia Platamona, Castelsardo, Capo Caccia, beaches near Alghero like Bombarde, Spiagga X, Spiaggia di Mariapia, Lazzareto, and near Capo Caccia Spiaggia Mugoni, Cala Viola, Porticciolo with great camping place,and more than kilometer long spiaggia Porto Ferro, Spiaggia di Limpianu .. Take your Road map of Sassari and Alghero and discover landscapes and beaches of Sardinia