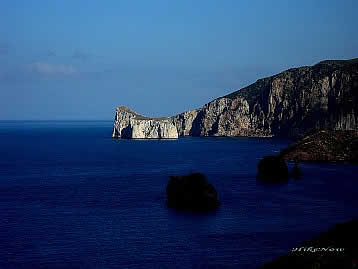 If you are thinking on holidays to the south west of Sardinia, than area of Masua is the place you can not miss. Masua, is a small hidden a sandy beach surrounded by the mountains and overlooking the white rock/islet of Pan di Zucchero.
From Cagliari to Iglesias and Nebida
You only seam to miss a ship of pirates in the picture.. Where is the beach of Masua? From Cagliari you should take the road towards Iglesias and Nebida. From Nebida you will drive for about six kms through the bendy road with spectacular view.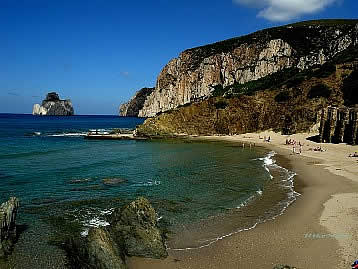 Pan di Zucchero rock
Pan di Zucchero is picturesque rock which is detached from the Nai mountain. They is about 130 metres high with two natural arches.
The area around crag is also popular place for those who want to do scuba fishing or dive in its waters to discover its underwater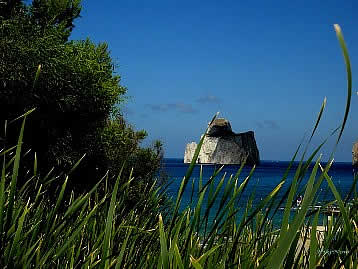 Around Masua region
The region of Masua was known by several mines where mining activity flourished until the recent past. Today, some of them have been fitted and secured to make them accessible for tourists; for example Porto Flavia Masua close the seaside, where you can enter in small groups to visit the mine complex. After the visit, you can stay on the beautiful beach of Masua, with wonderful sea and great view to the white rock of Pan di Zucchero.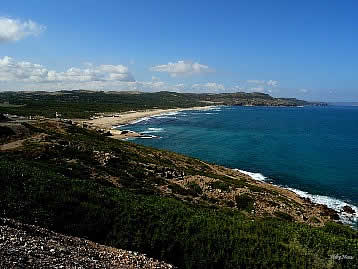 Fontanamare, Tonnara beaches
Beach lovers can opt for apartments near the beach of Porto Paglia. There are actually three beaches which are combined into a single expanse of 3 kms long golden sand.
The beaches are situated in a bay - the Gulf of Lions. When blowing the mistral winds than create waves ideal for surfing.