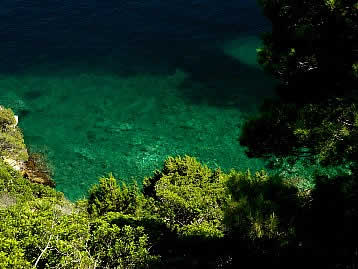 Porto Conte bay is closed to the west and east by two capes: Punta del Giglio and Capo Caccia. The second one - Capo Caccia is with summit Monte Timodone 362 m above sea and from far around looks like immense rock fortress. Betwen capes lies smaller or longer beaches where the favorites is Mugoni beach.
Porto Conte bay
Driving from Alghero to Cape Capo Caccia take poor half an hour. Cape was named after a hunt to wild pigeons. In particular, small peninsula is known for its underground cave - Neptune's Cave, which has a gate just above the sea surface.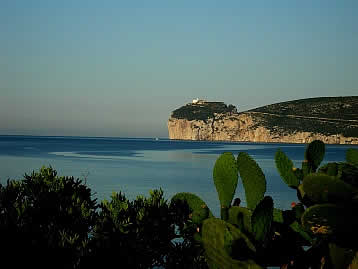 To the Neptune's cave

From the top of Cape Capo Caccia in nice weather you can enjoy a picturesque view to the wild cliff's coast. Just below the lighthouse is also the starting point for the descent to the famous Neptune's Caves. Downhill is possible under the 600 stairs. Access to the entrance of the cave is possible also with the tourist ship or boat. Accommodation near Mugoni beach one can be found in a nearby hotel of Porto Conte bay , in camps along the coast in the direction of the beach Le Bombarde or in private accommodation like villa and appartments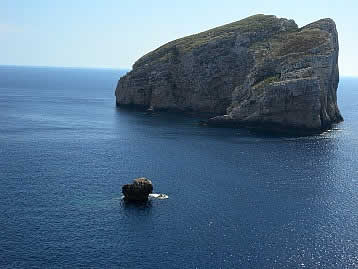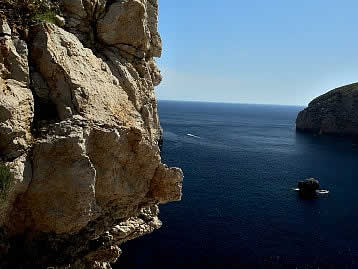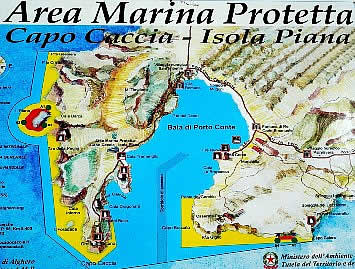 On the top of Capo Caccia cape
The entrance fee entry to the Neptun's Cave is required to pay . The cave is approximately 2,5 km long. Guided tour lasts around 20 minutes and visit the 200 m at the end - quite modest in comparison to other cave visits. After the visit ones can find pleasant bays and freshen up in the sea.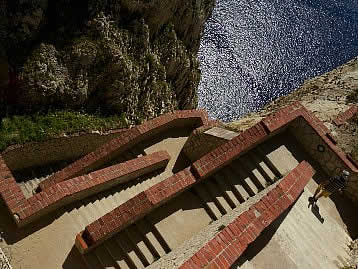 The area around Capo Caccia is very interested for divers. There are about twenty dive sites where probably the most interesting are wrecks.