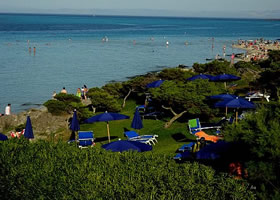 Stintino - La Pelosa
On the northwest of Sardinia one should find a land of wild, with wind blown rocks and unkempted bushes. But there are also some finest beaches like Stintino with spiaggia La Pelosa, Saline and Ezzi Mannu.
La Pelosa is agreat family beach with shallowness cyan color and transparencies sea. The color of the sea with very fine white sand looks like a tropical beach.

Fine sandy beach of La Pelosa
Stintino is a smaller, more laid-back resort with a few bars and restaurants but lately very well known tourist centre. Located in the Asinara gulf, Stintino and its beaches are well protected from the open sea by a natural barrier of Isola Asinara Island..
Opposite of La Pelosa beach is smal isle with nice smaller tower to be found. One can access island by walking through shalow water.
For the people who love the sea, the sport, or simply like to relax, surfing center offers service
.

Isola Piana - Stintino
Oposite of the beach and the small isle one can see another small island - Isola Piana with the tower. In the past the island was used as pasture for livestock. The cows was fasten to the boat and dragged to the island coast. Of cource the cows swim across to the island, refreshing in beautiful sea and when arrived island they had juicy lunch. Great cow's trip.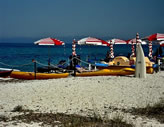 Today Stintino beach has a small garden on one side and rocks on the other. One can rest and sun bathe on the sandy beach or the garden.. All along the coast are beautiful views.