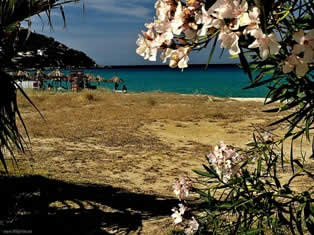 Solanas - fishing village
The coast of Cagliari Gulf offers interesting cycling trips close the sea as well as inside. Cycling is possible due to mild climate all year round. Gradients are not too steep so the tour is suitable both as well prepared as less well prepared cyclists.
Especially interesting is biking from Cagliari to Villasimius village.. The total route is about 50 kilometers long, it is quite winding, with a beautiful view to the sea and beaches below the road..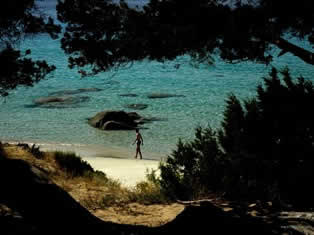 With bicycle to Solanas beach
The tour is a relatively lightweight with flat gradients, the only long ascent is before Solanas village. The traffic before the main season is quite low and cycling with occasional stops above the beautiful beaches is just romantic.
Cycling in this whole area is most suitable for mountain bikes with the profile for the less demanding route and asphalt. For those who has not already been lured to the one of beautiful beaches, Solanas beach is the place where you must stop - for rest after an exhausting three-km gradient and enjoy in romantic nature.
Tourist resort of Solanas
The village of Solanas is inhabit all year round. It is clearly visible from from scenic road that leads from Cagliari to Villasimius. The beach is formed with a charming inlet to arc, of white sand, long more than 1 km and enclosed between two rocky promontories of spectacular granite.
Solanas village is about 12 km far from Villasimius. It is a famous tourist resort known for the beautiful sandy beach and turquoise-clear water. In the summer months Solanas become a lively place especialy their long beach.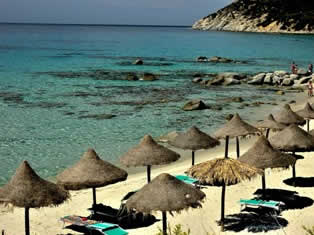 Sunbathing on Solanas beach
Solanas is a typical Sardinian village just off the coast road from Villasimius to Cagliari. The small village boasts three restaurants, two pizzerias, two hotels, and few markets.
It offers one sandy beach surrounded by a rocky coast. The place is a very pleasant residential area popular with families and groups alike.