The town of Dorgali is situated on the north eastern coasts of Sardinia between the sea and slopes of Monte Bardia. The area around the town is the ideal place to enjoy a mixture of rambling, sunbathing and swimming

Dorgali - town above the Orosei Gulf
Dorgali is one of the best places to see (and buy if you wish) some of Sardinia's traditional crafts. It is a little town situated on the slopes of Monte Bardia with an excellent archaeological museum. Surrounding of Dorgali and Orosei Gulf is stunningly beautiful and unspoilt, the ideal place to enjoy a mixture of rambling, sunbathing and swimming. The
natives
of Dorgali relies on the wine production and tourism.
From Dorgali to Cala Gonone resort
The area around Dorgali has a large number of attractions. In the surroundings of Cala Gonone there are numerous long and short walks to choose from, as well as boat trips.
It is recommend an excursion by boat to the double sea cave Bue Marino - Grotto of the Monk Seal and Cala Luna beach. The small town Cala Gonone is a main tourist resort of Barbagia; it can be reached from Dorgali through a tunnel and steep winding but scenic road to the sea. The town extends along extinct volcano Monte Codula Manna and you can find black volcanic stones nearby the beaches.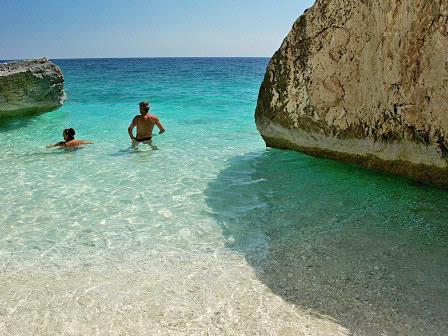 Beaches of Orosei Gulf
Gulf of Orosei has beautiful beaches, not only in the sense of the worldliness, but also from a naturalistic aspect, for the waters, for the colors, for the type of sand, and for the morphology of the territory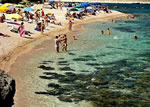 .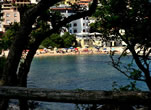 From Cala Gonone you can take a boat trip to famous beaches of Orosei Gulf like Cala Luna, Cala Sisine, Cala Biriola, Cala Mariolu and Cala Goloritze. A group of boat owners offers transport of visitors along entire coast. You can also
stay in one of the hotels of Cala Gonone
. The most of hotels are situated just a step away from the beach and at it is ideally for the traveller and tourists who just wants to bask and indulge. Parking is mostly on the street or in the car park. Of course it is recommend to book room with balcony and sea view room to enjoy view and air of the nature.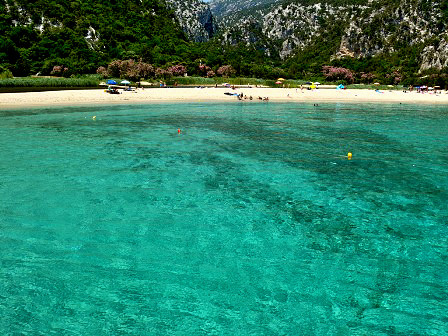 Cala Luna beach
Cala Luna is one of the most famous beaches in Sardinia.
Hikers
can also get there on foot. The path winds between the two seas through a lush maquis. When the hill slopes downto the sea the beach appears like a crescent moon; snow white in contrast with blue of the sea.
Another way to reach the beach (and pretty easier) is a
one day trip by boat
from Cala Gonone or from Arbatax. Cala Luna has a pignant beauty with its dazzlig light and its treasured sandy shore between the rock and cliffs. Behind the beach there is a natural freshwater pool and exotic copse of blooming oleandres in white and purple colors