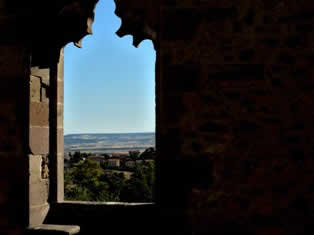 How to reach Laconi - Sardinia
This noble family still owns the nearby mansion, the noblest and
most beautiful private house
on the island.
Lacon
i is a municipality in the Province of Oristano - Sardinia. It is located about 70 km north of Cagliari and about 40 km east of Oristano. The main centre of the area houses a beautiful park, rich in magnificant plants and streams, wich surrounds with Aymerich Castle.
Garden of Laconi - Sardinia
Laconi's Park and garden Aymerich is a beautiful historic grounds that have featured strongly in Sardinia's history, from the 8th century to the present day. Thanks to their central position and the abundance of natural springs, the park grounds have attracted human settlement since ancient times. Testimony to this are the many archeological finds and the park's enchanting medieval castle ruins
Built around the 8th or 9th centuries, the castle was used as a holiday residence by the Guidici, or rulers of Arborea. During this era, Sardinia was divided into four kingdoms known as Giudicati, which were governed by the Giudici.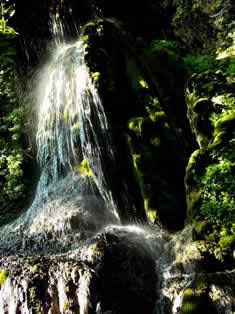 Aymerich park
In 1477, after several further transfers, Laconi and its castle were purchased by the Castelvi family, becoming a county at first, then later a marquisate. The feudal estate was signed over to the Aymerich family at the beginning of the 1700s, who remained its owners until 1990 when the park became property of the Region of Sardinia.
The castle and the village of Laconi belonged to one of the most prestigious of these - the Kingdom of Arborea.In 1409, folowwing the fatal battle of Sanluri, the above kingdom surrendered after four centuries of rule, ceding the castle and the village of Laconi to the Aragonese. Subsequently, with the unification of the Spanish crowns, theypassed to Ferdinando il Cattolico.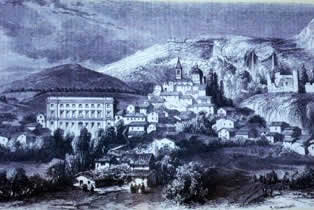 The park spans an area of over 22 hectares
and is divided into two main sections: historical and recreational. The former comprises the castle ruins and impressive tree specimens from the Marquis Aymerich cellection,amongst which is the Cedar of Lebanon. The recreational area provides visitors with comfotable picnic seating set in a protected woodland environment, as well as offering picturesque views of natural landscapes.