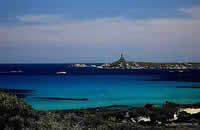 Villasimius - fishing village
Finally after an hour drive we arrived in emerald green lagoon before Villasimius village just below the Cape Carbonara in Sardinia. Once a small fishing town it has been transformed, when the people from Cagliari discovered for the first time its apparently endless series of enchanting and sunny beaches and inlets. We enthusiastic get out of the car and continue walked to the beach. After refreshing in the sea followed the lunch with Tuna sasimi and lemon or soy sauce , and slacking.My excellent telescope has been often used primarily by male part of colleagues , which grazed his eyes on the bodies in bikini on the beach. Of course, all accompanied by real men comments and ratings. The elevated temperature of the water allows long bathes and the numerous reefs are rich in marine animal life. Among the most beautiful beaches of the Golfo di Cabonara are Porto su Ruxi, Cala Piscadeddus, Campus of Foxi, Campulongu beach, spiaggia del Riso, and the far larger on the easteren side Porto Giunco, Notteri and spiaggia di Simius, as far the smaller but splendid beach spiaggia di P.Molentis.
From Villasimius to Capo Carbonara
Not to be left out is a visit to admire the rocky landscape of this splendid coast in particular Capo Carbonara, Serpentara island, Cavoli island, where granite takes on spectacular forms. In the late afternoon we turned into marina of Villasimius. This is a very luxurious marina, which offers you all: mooring, electricity, water, toilets, showers, grocery shop, nautical trade and bar. Famous as a tourist town Villasimius boasts luxury hotels, a gilf resort and an island-famous nightclub (Peyote). At this time marina was only half filled, and we sat in the bar with a few guests. Price for mooring of the boats was 30 Euros - very convenient, especially in relation to information on how expensive is Sardinia. For dinner was a very strong fish soup with rice, and tuna roasted on butter .
The beauty of nature around Villasimius
In the morning we at first walk to the village of Villasimius. Soon we may be sure that Sardinia is really beautiful Italian tourist destination. Nature here is hilly, with roundness granite stones and rocks lying all around and greenery close to the beaches. The surroundings are settled as tourist resorts with white sandy beaches and emerald green lagoon. Close the main road running the bike trails and pedestrian path, and flowers.. We walked near the golf course, and horse farms, past the hotels and camp.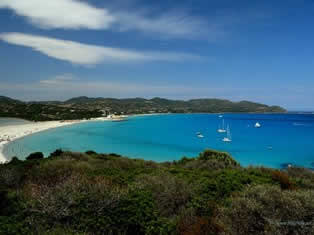 Back to the beach
Another charming village is neighbouring Solanas a charming and rusticly-typical Sardinian village just off the coast road from Villasimius to Cagliari . The village, though small, boasts 3 restaurants, 2 pizzerias, 2 hotels, 3 markets, newspaper kiosk, service-station, pharmacy, beach cafe and rentals. It offers one sandy beach surrounded by a rocky coast. A very pleasant residential area popular with families and groups alike. Villassimius is nothing special - a long village along the road, probably built just after the war, but shops and restaurants are very nice. We could not resist to the offer of the premises, so we went to a small shopping and at the end we finally afford even cold beer. With fresh vegetables and fruit we went back to the camp, where waited us our tuna lunch (again).
Hotels in Villasimius offers all kinds of accommodations for different types of people, for families with children, couples, young people. You can choose between three-star hotels and hotels of the highest quality. The most popular are those hotels close the sea and near the beaches of Villasimius.