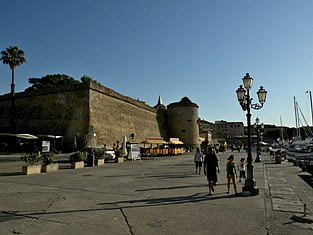 Where is Alghero located in Sardinia Island
Alghero is situated along a wide coast on the north - western side of Sardinia. It is a lively townn with historical centre, streets and squares. The name of the town Alghero derive form Italian word alga which mean seaweeds. The town was from 14 century under the Spain domination.
The settlement of a Catalan colony and the long Spanish domination explain the strong influences in the local dialect and also in architecture of old centre.

Alghero historical town
During the summer holidays Alghero and its surroundings is perfect place for accommodation in camps, hotels or villas. If you are staying in or around Alghero then the bicycle is good choise for visiting the old centre of Alghero. You can choose the car, but in the evening when the temperature are endurable for walking through the streets, the park places before old centre fortress are pretty full. Alghero's old quarter with restaurants, boutiques and bars, attracts many visitors. The historical centre "Centro Storico" is of course must see place. Here you can explore narrow streets with Catalan and Arogonese buildings, have a drink on a lively square or stroll along the fortified wals and enjy view on Capo Caccia.

From Alghero to the Capo Caccia
The coastal road from Alghero to the north lead us near famous beaches to the natural harbour Porto Conte. On the most north side stay Capo Caccia - more than 200 meters high cliff with lighthouse at the top and famous Nettuno cave
Stay in Sardinia:
Sardinia is a small but very varied Island; the scenery of its beaches is colorful almost everywhere you go. One of choises to enjoy on beaches and inland places is to create an itinerary for 7 to 14 days staying for 3 or 4 days at a time in Sardinia hotels
The coast and especial the beaches around Alghero are things that really worth a visit. There are some must see poitns like fascinating Stintino beaches with Spiaggia della Pelosa and long white beach Spiaggia delle Saline, Porto Torres with Spiaggia Platamona, Castelsardo, Capo Caccia, ..