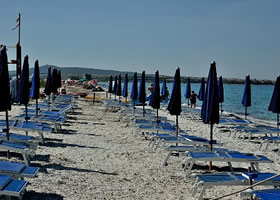 Stintino town
Stintino is a small town on the north-west side of Sardinia. It is well known by nerby beaches (La Pelosa, La Saline) and nature reserve of Asinara island.
The town in its centre is a grid of streets tighted between the two harbours. Porto Nuovo and Porto Vecchio are the main places where the visitors and touris take a walk. There one can find well known restaurants with seafood.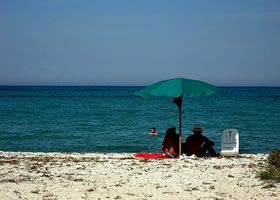 Sandy beach of La Saline
The Beach of Le Saline is far about 2-3 kilometres from Stintino . Bus stop about 200 mt. from the beach, to reach it we cross the zones where in the past they existed some salt pans. The beach name Le Saline derives by the salt works located here that was run by the monks of Santa Maria di Tergu. The beach is a long stretch of very small crushed smoothed white stones (as grains of rice). The color of the sea is blue, clear and transparent.
The beach of Le Saline Stintino is a pretty popular place that is close to the structures of ancient salt mines, existing since the thirteenth century, and the abandoned buildings of the seventeenth-century tuna Saline. On days when blow the wind, Le Saline is much visited by lovers of the windsurfing.

Isola Piana - Stintino
The Saline Tower is located on the Saline beach very close to the Casaraccio Pond. It was built around the 1570 in shape of cylindrical two-storey building, with a dome-shaped vault. In addition, the Macchia Mediterranea is a refuge for several animal species that populate this small cameo. Sometimes you can see the elegant pink flamingos, and their graceful flight. under salt pans..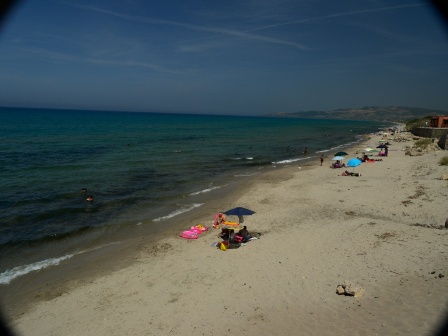 Spend some time on the Costa Smeralda, move to Alghero and famous Stintino or explore nuraghe arround Sassari. If you have enough of time then maybe enjoy , a few days in the bustling centre of Caligaryi.