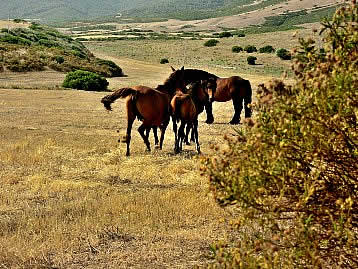 From Oristano to Costa Verde
Oristano is a pretty town which lies on west side od Sardinia and it is about 5 kilometers far away from the sea. We actual stayed in Spinaker camp near Torre Grande town. One of the place which we planed to explore was Costa Verde and surrounding contry. The day was serene but windy. The trip to discover wild and unspoiled coast of western Sardinia began with heavy trafic on the road through Oristano. After Arborea town we enjoy the natural beauty spots with fields, hilly landscape and view to the coast.
Landscape of Costa Verde
The name Costa Verde (Green Coast) comes from the presence of a rich vegetation that descends from the mountains to the sea. The approximately 50 kilometers long coastline bounded on the north by the "Capo Frasca" and in the south by the "Capo Pecora. Winding road croses pictursque contry from Arborea to Costa Verde. The road is suitable for cycling because of pictursque landscape and rare of trafic. The area of Costa Verde preserves still now its wild nature thanks to the fact that is not very well connected to the rest of Sardinia. Big cliffs, sandy areas, high dunes and dark green color of the sea are the main features of Costa Brava.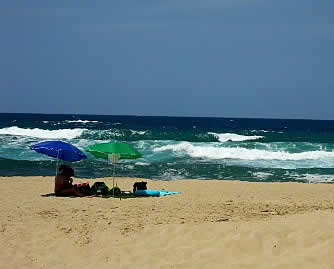 Beaches of Costa Verde
The south coast at the Mar di Sardegna is a fascinating region with many places to dive. It is very peaceful, and rarely crowded. It's fairly easy to practise naturism in the nude beach area towards the South end of the beach. Kilometres of relatively deserted coastline offered very good privacy.
One of the most picturesque beach in this region is for shure famous Piscinas. It has been declared by the UNESCO world heritage site and its landscape cannot be altered in any way. The only building on the beach is the Hotel Le Dune obtained by the old warehouses of Ingurtosu mines. The dunes area of Piscinas is remarkably intact. It extends far into the interior. Behind it forested hills and scrub-shrub like broom, rosemary and juniper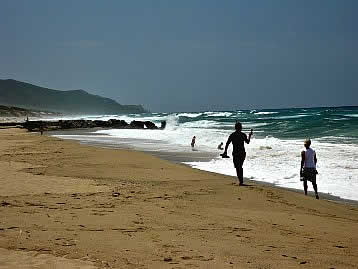 Peacefulness of Costa Verde coast
Overall, the Costa Verde offers the possibility of a peacefulnes, but not boring holiday. For those who want to escape the stresses of everyday life for some time, and enjoy exploring cliffs, reefs, and dunes then the places around Costa Verde are just right place for holiday.