text by
Emma Healey
Golf in the Algarve, Portugal
Because the Algarve has very little rain and more than 3,000 hours of sunshine a year, it is the ideal location for golfers.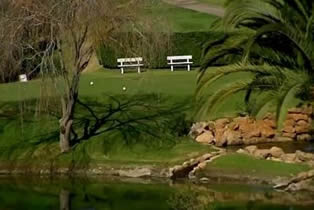 The International Association of Golf Tour Operators voted the Algarve as the best golfing destination.
The Algarve has more than 30 top class golf courses, including courses designed by Henry Cotton, Arnold Palmer and Rocky Roquemore, and is visited by golfers from all over the world. San Lorenzo and the Old Course in Vilamoura are ranked among the best in Europe.
Faro is home to 10 of the top 100 courses ranked by the renowned Golf World magazine.
There are Acadamies at the David Leadbetter in Carvoeiro and at the Grotter, at the Alto Golfe in Portimao and at the Vila Sol at Vilamoura, all of which can help you improve your swing!
Course Locations in Algarve
Central Algarve - Balaia, Faldo, Laguna, Laranjal, Millenium, Ocean, O'Connor, Oceanico Academy, Old Course, Pine Cliffs, Pinhal, Pinheiros Altos, Quinta do Lago North, Quinta do Lago South, Royal, Salgados, San Lorenzo, Victoria, Vila Sol.
Western Algarve - Alamos, Alto Golf, Boavista, Gramacho, Morgado, Palmares, Parque de Floresta, Penina Championship, Penina Academy, Penina Resort, Pinta, Silves Golf, Vale do Milho.
Eastern Algarve - Benamor, Castra Marim, Colina Verde, Monte Rei, Quinta da Ria, Qunita de Cima, Quinta do Vale.
On your golfing holiday to Portugal you can also enjoy the beautiful beaches, watersports, nightlife, casinos, restaurants, bars and shops.
You can book direct holidays to all of the Algarve's golfing destinations through the internet, you just have to experience this wonderful country of Portugal yourself.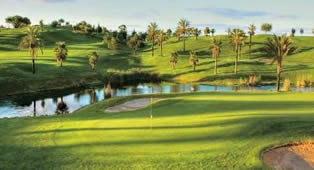 With much, much more than just golf on offer here watch out for the great holiday deals that are around at the moment and book that holiday of a lifetime.
Emma Healey is the co-founder and owner of holidayholiday.co.uk, specialists in holiday packages and last minute holidays to worldwide destination. Thanks for taking the time to read my article and be sure to watch out for more of my articles as im writing many travel blogs and have some great topics coming soon. Article Source: http://EzineArticles.com/?expert=Emma_Healey
http://EzineArticles.com/?Golf-in-the-Algarve,-Portugal&id=4745821