HikeNow
Visit of the Templar knights in Tomar, Portugal
Visitors who travel a short distance from Praia D'el Rey Villas to visit the town of Tomar, they'll have an opportunity to visit the impressive monastery of the Templar knights who have been well-known throughout history. Active for centuries and given worldwide attention from the best seller The Da Vinci Code, their monastery is still the point of interest in Tomar.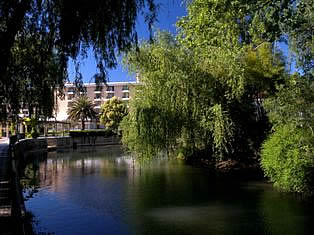 Tomar is a small town that bellow the walls of the Convento de Cristo. This place is often referred to as one of Portugal's historical jewels. Many of tourists visit this town every year because of its varied monuments. Famous sights include the Church and Convent of Saint Iria, Chapel of Our Lady of the Conception, and Church of Santa Maria do Olival. Tomar is also one of the most affordable places to visit in Portugal.
The town of Tomar has around of 350 square kilometers and 40,000 inhabitants. Thanks to its elevated position in the region of the Ribatejo, its weather is warm and pleasant all year long. This historic city was home to Henry the Navigator and played a major role in the Middle Ages. For sports enthusiasts, there are plenty of mountain biking and hiking trails
The Convent of the Order of Christ, Tomar
The historical and artistic monument of The Convent of the Order of Christ (Convento da Ordem de Cristo) was built in the 12th century. It tells the story of the Knights of Templar and the Holy Grail, featuring a unique mix of Gothic, Romanesque, Renaissance, and Manueline architectural styles.
Founded in 1160 by D.Gualdim Pais, as the headquarters of the Order of the Knights Templar, the castle absorbed part of a Muslim settlement dating from the 9th .12th centuries.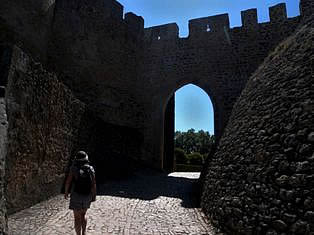 The fortified structure shows Middle Eastern influences new to Portugal, such as the Keep and the alambor, a reinforcement incline built at the base of the wall to keep siege engines at bay and cause projectiles to bounce.
The original wall included the Alcacova - from the Arab Alkasaba, meaning fortress with royal residence - the quarters exclusive to the Knights Templar; the Almedina, the central, usualy fortified part of the town; and the Oratory, in the shape of a rotunda. When the Order of the Knights Templar was disbanded in 1319, the castle was transferred to the Portuguese Order of Christ, becoming its headquarters in 1357.
New buildings were erected in the 16th century,during the large work campaigns ordered by King Manuel and King Joao III, occupying an inhabited area known as the "arrabalde de S. Martinho".