Pic by HikeNow, text by
Emma Healey
Surfing and Windsurfing in Praia Do Guincho, Portugal
Praia do Guincho (Guincho Beach) is regarded as one of the best places to surf and windsurf in Portugal. Located northwest of Lisbon, 5kms from Cascais, conditions here are excellent for surfers, windsurfers, kiteboarders and bodyboarders.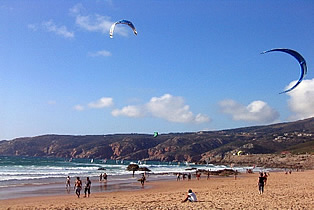 There are more than 20 surf schools and several surfcamps in the area. The white sandy beach of Praia do Guincho is part of the Sintra-Cascais
Natural Park and has a magnificent backdrop of the Serra de Sintra Hills. The Sintra-Cascais Natural Park is one of the 13 natural parks in Portugal.
Protected since 1981, although it has only been one of Portugals natural parks since 1994, it includes the Serra de Sintra mountain range.
Surfers, wind surfers and kite surfers paradise - Praia do Guincho
There are plenty of bars and restaurants in the area, the restaurants specialising in fish and seafood cuisine.
The pre-title sequences of the James Bond film On Her Majesty's Secret Service were filmed here in the surf at Guincho Beach.
July and August are the best months to visit however, the winds start to blow here from May right through to October. Water temperatures average 13-19C, 17-19C in the summer months.
The north side of the beach has the best conditions for windsurfers and the south of the beach has the best conditions for surfers.
This is a beautiful beach, not only for water sports but also one of the best places in Portugal to watch magnificent sunsets. You can also walk a long way out to sea and you will still only be waist deep.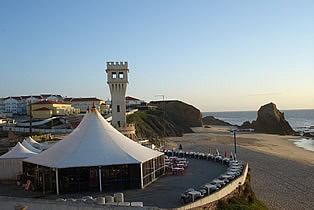 If you enjoy water sports there are no end of travel deals available to Portugal for you to enjoy. For cheap package holidays, there are always great offers available throughout the internet.
Emma Healey is the co-founder and owner of traveltravel.co.uk, specialists in cheap holidays and travel deals to worldwide destination. Thanks for taking the time to read my article and be sure to watch out for more of my articles as im writing many travel blogs and have some great topics coming soon.
Article Source: http://EzineArticles.com/?expert=Emma_Healey http://EzineArticles.com/?Surfing-and-Windsurfing-in-Praia-Do-Guincho,-Portugal&id=4956108