Pic by HikeNow, text by
Ian Thorson
Evora - A Glimpse of the Golden Age of Portugal
To the south of Lisbon and the Targus river is a region of large plains known as the Alentejo Province. In the central part of this region lies the historic city of Evora. With a 2006 population of 50,000, Evora is a city with its eyes on the future, but has such a well-preserved city centre that it is a UNESCO World Heritage Site.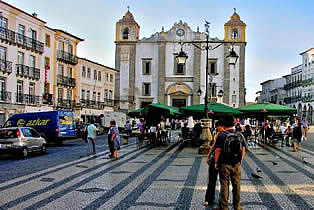 Evora has historic monuments dating back 2,000 years, and its well-preserved monuments represent many different historical periods.
Much of the old city walls are still intact, and within these old city walls there are no fewer than 4000 different monuments of interest, including gates, palaces, churches, squares and more, representing styles from Roman to Visigoth and Moorish and onward.
Sitting atop a hill, Evora's Gothic Cathedral dates back to the 13th century with additions in the 14th century.
The Gothic church of Sao Joao Evangelista is near the Cathedral and is an awesome building, having been founded in 1485. Be sure to check out the beautiful hand-painted tiles in the nave.
Palace of Vasco da Gama in Evora city
Another wonderful monument in Evora is the Palace of Vasco da Gama. Its cloister is in the Manueline style and the murals are distinctly Renaissance. Also a must-see is the University of Evora, which began as a Jesuit college in 1551. The Jesuits were expelled in the 18th century, but some fine monuments remain, including the 17th-18th century cloister and the 16th century Mannerist Church.
Dominating the center of town is Evora's most famous landmark, the ruins of the Roman Temple of Evora dating from the first century. Illustrating the longevity of Evora's monuments, there are fourteen granite columns still standing after 2000 years.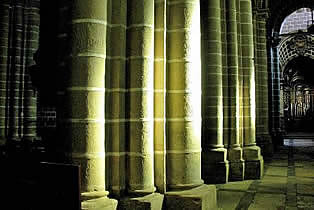 All in all, Evora stands as the best intact example of what was Portugal's "Golden Age".
Ian Thorson has been writing and publishing articles on the web since 2001. Check out his latest website http://cheaphotelsinlasvegas.org where you'll learn ways to find cheap hotels in Las Vegas and have a great time in Vegas for less.
Article Source: http://EzineArticles.com/?expert=Ian_Thorson
http://EzineArticles.com/?Evora---A-Glimpse-of-the-Golden-Age-of-Portugal&id=3187616
Pictures by flissphil