text by
Emma Healey
Portimao in Algarve, Portugal Travel Guide
Portimao is a traditional fishing port and harbour on the River Arcade estuary on the south Algarve coast. Located close to the popular beach resort of Praia da Rocha, Portimao is just 40 miles from Faro. If you are looking for a traditional Portuguese holiday this is the place to visit. Everything in Portimao revolves around its riverside and harbour, main square and gardens, and restaurants.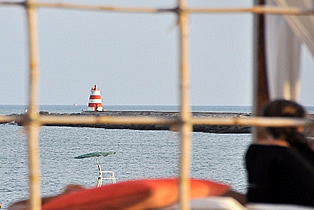 Add the towns shops, markets and boutiques and you have a town that gives you a real taste of Portugal. Local crafts including lace, jewellery, copperware and ceramics are on offer here at very reasonable prices. Portimao is well known for its traditional restaurants where you can sample the towns famous charcoal-grilled sardines and fresh seafood.
Most of the restaurants and bars are found along the riverside and around the harbour giving you excellent views whilst enjoying a quiet relaxing meal. The town holds a sardine festival every year in August. Nearby Praia da Rocha is much livelier than Portimao in the evenings, offering restaurants and bars with live music, nightclubs and a casino.
Great beaches nearness Portimao town
The coastline around Portimao has clifftop walks, sandy coves, caves and fascinating eroded rocks. The town is within easy reach of some great beaches. Praia da Rocha beach is regarded as one of the best beaches in the whole of the Algarve. Just a couple of miles from Potimao is the sandy Praia dos Tres Irmaos beach. Popular with divers are the dark golden sands of Tres Irmaos. The popular beach and fishing harbour at Ferragudo are just a couple of miles away on the eastern side of the river. There are lots of lovely sandy beaches between Praia da Rocha and Alvor, especially Praia do Vau. Diving, snorkelling and swimming are favourite pastimes here with some really good dive sites along the coast.
Trip to Portimao
Portimao offers great cruise trips for you to enjoy on your bargain holidays to Portugal. Experience a romantic dinner on a trip along the coast, enjoy some drinks and show your moves on a dance cruise or just take a relaxing dolphin spotting boat trip. Portugal not only has some of the most beautiful beaches in Europe but also boasts that it is one of the sunniest locations. Portimao enjoys more than 3000 hours of sunshine a year with summer temperatures often exceeding 30C.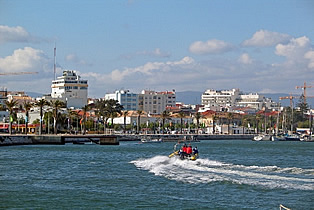 The climate together with the many cheap holidays that are on offer to Portugal make it an ideal choice for your cheap holidays at any time of the year.
Emma Healey is the co-founder and owner of holidayholiday.co.uk, specialists in holiday packages and last minute holidays to worldwide destination. Thanks for taking the time to read my article and be sure to watch out for more of my articles as I'm writing many travel blogs and have some great topics coming soon. Article Source: http://EzineArticles.com/?expert=Emma_Healey http://EzineArticles.com/?Portimao,-Algarve,-Portugal-Travel-Guide&id=6085950
Pictures by joaoa