by HikeNow
The most southern province of Portugal - Algarve
The most southern province of Portugal is known as the Algarve. Todays name Algarve origin from the time of the Moors rule who named the region as Al Gharb.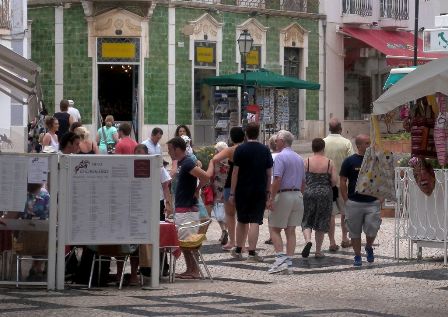 The area mesure from east to west about 150 km and about 50 km to the north. The eastern part of Alagrve is less developed than western. West and south coast of Algarve bordering to the Atlantic Ocean and the east Algarve border to Rio Guadiana River and Spain.
Algarve has become known primarily as a tourist destination. Despite the fact that the Algarve border on the Atlantic Ocean, the Mediterranean influence is strong enough for a comfortable climate and many outdoor activities.
Among these activities busting surfing, sunbathing and playing golf. The west part of Algarve with highest peak of Fóia (902m) is hilly. The hiker should enjoy trip in the mountain range of the villiage Monchique.
Visit some of top sites in Algarve
The most south western point of Europe is located in Algarve at Cape of San Vicente close the town of Sagres. The centuries ago this cape was marked as the end of world. There on the promontory stands lighthouse where from you can watch the most beautiful sunset in Portugal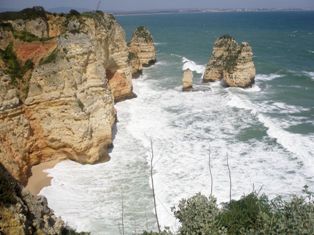 The town of Lagos with a lively city is worth to visit. The pedestian zone is a full of small shops and nice restaurants with sea food. The coast has an unusual and famous rock formation with caves and a long sandy beach.
Algarve has also a Mountains. The beautiful small town of Monchique in the west part of Algarve could be a starting point for walkers and hikers. The town is also famous by its old but restored health spa.
Algarve temperature are the mildest temperature of Portugal. The hills Espinhaco de Cao, Monchique and Caldeirao in the northeren part of Algarve protect land against strong winds. In the summer holiday there are mildest climate in Portugal. It is a mix of the Mediterranean mildness, heat of Africa and wind from Atlantic ocean. The air temperature are about 30 °C and water temperatures to 22 °C. The month of August is the hottest month in the Algarve - a day peak of tempereture during day exceed 30 degrees Celsius and around 25 degrees at night. During the winter months the climate is not cold but because of rainfall it is rather moist weather.