by
Emma Healey
Alvor on Portugal's Algarve
The old port and fishing village of Alvor sits at the mouth of the River Alvor in western Algarve. Just 5 miles from Portimao, 12 miles from Lagos and about 40 miles from Faro, Alvor is popular with families and couples looking for a quiet resort with uncrowded beaches. The resort is slightly less developed than other resorts on the Algarve, mixing the old with the new. The narrow cobbled streets are lined with the original traditional fisherman's cottages which are a focal point of the town.
Alvor has much to offer everyone on their cheap holidays to Portugal, including a vast sandy beach, a fishing harbour, riverside square, waterfront promenade, the ruins of a 13th century castle and a 16th century church. Portimao and Praia da Rocha are easily reached by bus which runs from Alvor to both resorts.
Alvor has a magnificent 4 mile stretch of sandy beach which has good facilities and is less crowded than other Algarve beaches. A variety of water sports are available at the beach in Alvor. There are lots of beaches to visit between Alvor and Portimao, including the beautiful beach at Praia da Rocha. If you are looking for more secluded beaches there is the beautiful cove of Praia dos Tres Irmaos which nestles under the red cliffs, the quiet beach of Praia do Vau and the small cove of Prainha beach.
Away from the beach there is plenty for the whole family to enjoy including golf, horse riding and the local water park to name just a few of the activities on offer. The Alvor climate makes it possible to play golf in 2-month seasons. Often referred to as 'golfer's paradise', there are more than 30 top class golf courses in and around Alvor. There are several riding centres around Alvor which offer lessons for beginners and experienced riders.
Trip for nature lovers to Quinta da Rocha nature reserve
Alvor is a popular destination with walkers and hikers, especially for holidays in December when the sun still shines and temperatures are just right for exploring the surrounding area. Walkers can take in the views across the estuary as they take a leisurely stroll alongside the river, wander along the sandy beach or explore the towns and villages around the resort. Nature lovers should visit the Quinta da Rocha nature reserve which is an important site for wading birds. There are some great excursions which the whole family will enjoy on their direct holidays, including the caves and grottos at Joao de Areus and the quaint little village of Abidaca. Other excursions include the Monchique Mountains, Silves Castle, historic Lagos, Cape St Vincent and the town of Loule. Boat trips from Portimao and Praia da Rocha are also very popular with families on their holidays to Portugal. A great day out for the whole family is a trip to one of the areas water parks where children and adults alike can enjoy the swimming pools and water slides before relaxing at the restaurants, cafes and bars at the parks.
What to do in Alvor
Due to the fine year-round weather cycling is very popular in Alvor, especially with those on their winter sun holidays. The quiet roads and flat landscape make cycling very pleasurable and an easy way to explore the surrounding area.
Nightlife in Alvor is relatively quiet with a disco and some bars. Those looking for more lively nightlife can take the short trip to the neighbouring resorts of Portimao and Praia da Rocha which also has a casino.
Alvor plays host to lots of different events throughout the year including golf tournaments, cycling events, power boat racing and festivals and exhibitions for music and art lovers.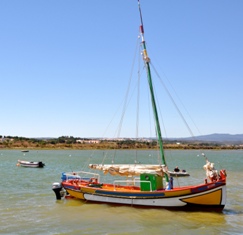 From May till October Alvor enjoys bright blue skies and average temperatures in the mid 20's. With 12 hours of sunshine a day during the summer season and 5 hours of sunshine a day in the winter, Alvor is not only the perfect choice for a summer beach holiday but also for winter sun holidays.
Emma Healey is the co-founder and owner of holidayholiday.co.uk, specialists in holiday packages and last minute holidays to worldwide destination. Thanks for taking the time to read my article and be sure to watch out for more of my articles as I'm writing many travel blogs and have some great topics coming soon.
Article Source: http://EzineArticles.com/?expert=Emma_Healey
http://EzineArticles.com/?Alvor-on-Portugals-Algarve&id=6725695
Pictures by joaoa ,