HikeNow
Exploring Sagres and Cape St. Vincent, Portugal
We began our travel to Sagres Portugal searched the map to find the most south and at the same time the most west location of Portugal. Close the Town of Sagres was positioned camping place so we decided that place as our "base camp" to explore Sagres and western part of Algarve.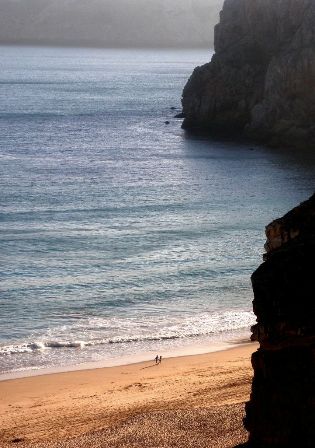 The camp site was positioned on a woded promontory betwen Sagres and Cape St. Vincent. At the end of june the campsite was pretty empty.
Area around the town of Sagres is a rocky plateau with bushes, and cliffs on the coast of the Atlantic Ocean. Coastline, embraced by steep cliffs offers wild beaches and dramatic views to the ocean. Close the town of Sagres lies the bay with a town beach Praia de Mareta. The most frequent visitors of the bay are surfers who enjoy on a large waves. There are also other beaches like Praia da Baleeira, Praira do Tonel and Praia do Martinhal.
The forterss of Sagres
On the south side of the town of Sagres is positioned imposing Henry the Navigator's fortress. Inside of fortress is a wind compass with a diameter of about 40 m and a former of monastery. The fortress was built in the 15. century. In 18. century Fort was the centre of a defensive line with Baleeira, Beliche, São Vicente, Carrapateira and Arrifana.
Cape St Vincent lighthouse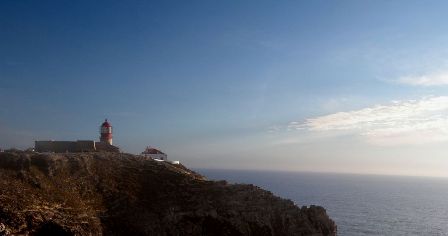 A few kilometers by coast road from the town of Sagres stay lighthouse Cape St Vincent . The lighthouse is with 2000 wats the second most powerfull in Europe. Here run one of the buisiest shipping way between Mediterranean North America and West Europe. The present lighthouse was built over the ruins of a sixteenth-century Franciscan convent. Because of exposure to the ocean, the area around lighthouse is very windy. On the other side, the place is famous by its sunsets. Every night at the lighthouse collect a bunch of visitors waiting for the sunset. Well I do the same and it worth.
Cycling and walking paths are also available in Sagres.

The west coast of Algarve boasts a diversity of botanical species. Natural Park extends itself along the Portuguese coast and is bordered by the Atlantic Ocean. You can cycle on the coastal road and visit wild nature clifs and beaches of natural park.
The Ecovia do litoral is another cycle route which start here at Sagres on the Cape St Vicent and ended in Vila Real de San António on the Spanish border. The route mesure 214 km and is interesting beacuse of many beaches in picturesque coastline.