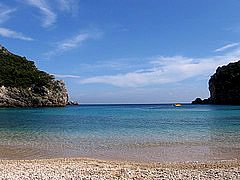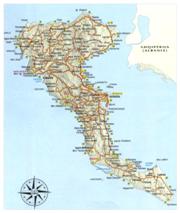 How to reach Corfu - Greece
There are three reasosns why I decided for visit Corfu: cheap flight, pictures of Corfu with great beaches and greenery of island. Most hotels in Athens are within easy travel to Corfu. But the island is much more: It lies on the border between Adriatic and Ionian sea, iand is one of the biggest and greenest Greek island. Corfu is also similar to some southern islands in Adriatic sea where grows a lot of mediteranean trees such as pine trees, orange, lemon trees. There are also more than hundred years old plantations of olive trees. This island is known for gorgeusly long sandy beaches, rich plantations of mediteranean fruits and many cultural and archeological sights.
How to reach Corfu Island:
Most people come to the Greek island Corfu with a plane, on a Europe cruise, or ferry. Some flights to Corfu island are very cheap, i recomend to look for a sites lastminutes like and your flight wont be very expencive.
WITH A FERRY: Every day you can catch a Ferry to take you around Corfu island and also in city Igoumenitsa, Patras and Italy. During summer holidays there are possible to have conection to other islands around. The telephone from Port administration is – 06610/386 94).
On Corfu island are a lot of secret places, hard reach beaches so, it is advisably to rent a car. Rent a car is about 35 Euros per day, or another possibility is to rent a scooter, motor-bike.
Sure you can see Corfu island from your bike, but you cant reach distant places only with a bike. Greek people are very friendly and hospitable, so a lot of native people on Corfu island has got a boat or a ship and they are very pleased to take turists on sight-seeing or distant beaches.
Corfu town
ACCOMODATION:
On Corfu island are many different Hotels, Apartments, Rooms. In Capital city is a little more expencier, but in other citys around the island you can find very cheap accomodation. Very advisably would be Studios. Studios are Rooms for two persons, with two beds, bathroom, little kitchen and a balcony or a terrace. For those who love nature in Corfu island are also avaliable Camps. For camping you must pay less than in studios, but prices are similar.
CORFU TOWN is the capital of Corfu island. The first thing i noticed were those high houses and narrov winding streets, which are showing a big inpackt of Venecian architecture. The palace on the main square Esplanada and the old port are from the times of British reign. It is such a plesaure walk down the old town streets and watching many little shops, restaurants and bars. On north and south side of the town we can see bays with sandy and rocky beaches, here we can also find a lot of modern Turistic resorts. From the airport to Turistic resorts we need only 15-45 minutes with a car.
The nearest islands are in private property, including the island of Scorpio, which is the property of the rich family Onassis. Some of the touristic agencies have even got permission to go with boats on that island.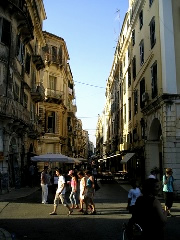 Places to see on Corfu Island
KAVOS is one of the most popular turist resorts on Corfu island, it lies around 30 km south of Corfu Town and Corfu airport. It has one of the longest sandy beach on the island, the beach is impresivly 5 km long. The place is also known for taverns, clubs, restaruants, it is very popular with British Turists. And on the beach u can also find usual sport activitys and beach life.
SIDARI is very beautiful turist resort. All around the place you can rent a Room, Hotel or Villa.The beach lies 32 kilometers from Capial city Corfu town. This beach is very appropriate for familyes with small children.

DASSIA lies 12 kilometers from Corfu town on beach side of bay Gouvia. Beside the hotels there are also a lot of restaurant, bars, clubs and a lot of possibilities for water sports such as water skiing, scuba diving...
BENITSES is also 12 kilometers away from capital city, this place is circled with beautiful sandy beaches and a lot of mediteranean nature and trees.

AGIOS LOANNIS lies south from Benitses, the area is called Aghios Peristeron and this place is known for many olive plantations. Hotels are on the slope of the hill, here is also one restaurant which is very famous for its see-fruit speciality and fish. This beautiful part of Corfu island is known for picturesque sunsets.

MESSONGHI and IPSOS are places where you can have a lot of fun, here you can find a lot of disco-clubs, restaurants there are also a lot of sport and fun centers. Town is very lively and it lies on beautiful sandy-rocky beach Chrisso Mili it lies 15 kilometers from Corfu town.
A SHORT HISTORY OF CORFU ISLAND
The island plays very important role in greek mithology and has got stormily history interwoven with various wars and different invaders. In year 730 before Christ, one of the firsts colonialists were Corinthians. They changed the island in the center of trading market. In year 229 B.C. Corfu island became colony of Roman empire, which remained the whole 566 years. Thats whay in you can find in Corfu town many different influences of European culture and architectureian monuments.
Short guide to famous Greek kitchen
Greek kitchen is one of the oldest kitchens in Europe. A lot of ingredients are similar to Turk or Italian kitchen but there are some evidences that Greek kitchen is indigenous. Already ancient Greeks were eating a lot of herbs, frying fish in olive oil and drank home-made wine flavoured with tree resin. Greek kitchen is very simple but rich. It is using a lot of mediteranean vegetables such as sweet pepper, tomatoes, zucchinis, artichokes, chickpeas, cucumbers, aubergines. They are using also a lot of mediteranean spices especially oregano, onion, garlic, basil, thyme.

Many dishes they are adding a little bit wine. Greeks are making food solely with olive oil. Olive oil has got exceptional fruit taste and it is one of the main export in Greece. Beside the famous greek olive oil, there is a Feta cheese and very thick greek yogurt, this two dishes are preparing from sheep or goat milk. My favorites food in Corfu were Gyros pie, Tzaziki and also very famous Greek salat.