We reached Meteora on a hot junian day at 4 p.m. Looking for camping place we found "Meteora Garden" camp with swiming pool and view to the clifs of Meteora.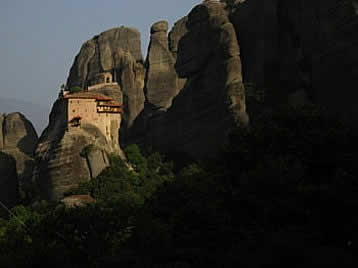 How to reach Meteora Greece
Meteora Greece is accessible from Kalambaka 9 km or from Trikala 21 km - see map of Greece. In the area close the Meteora town lie a very strange rock formations, rising from the level plain. The granite rocks of Meteora soar like a grove of flat topped trees from the ground . Nature has here in Meteora created a phenomenon of unique grandeur and at the same time set an insoluble problem for geologists. The existence of the Meteora Monasteries are at any rate reality and it is well worth at least one day to visiting those which are still fulfilling their function.
Between heaven and earth
Some people know the area of Meteora as monasteries as location of one of James Bond films, but most at least for some tourist catalog. Monastery complex can be also found on the UNESCO list of World Heritage Sites, so the area as a goal of most organized tourist travel within Greece, as a one day trip and short break during therelax on hot Greece beaches. When you stand at the foot and look to the 300 metres high steep cliffs, where at the top of the cliff stands the mighty monastery, they may be indeed felt as the building of monastery as floating.
Feeling is even stronger when finally you get to the top of cliff and you see the deep rifts and in the morning fog on the next cliff you can see the silhouette of another monastery.







Stay in Meteora
The visitors and travelers of Meteora who come to visi the monasteriest for several days, they usually find accommodation in one of two villages at the foot of cliffs, Kastraki and Kalambaka.
You can reach Kalambaka also by train from Athens. Although the ride lasts a few hours, it is pleasant trip because the course goes at the foot of the mountains and offers a wonderful view. Meteora is also a popular tourist spot for sportsmen. Routes around cliffs with steep ascents and descents are perfect for more daring mountain bikers. The c liffs are a challenge also for climbers, especially the "tower"; narrow vertical cliff that rises above Kastraki.
The monasteries of Meteora
METEORON: (613m)
It was founded by St. Athanasios, a monk from Ypati. The name Meteoron was his own. Gradually this name was given to all the monasteries. The church of the Transfigaration was originally built in year 1382.
BARLAAM: dates from 1517. There is a good resthouse for those who wish to stay the night.
AYIOS STEPHANOS: The view at this height is wonderfull.
HOLY TRINPTY: 140 steps lead up to the 15th century Monastery where there is a 17th Century chapel of St. .