I got the idea for another Greece holidays last year when we were returning from Crete. As always we prepared pretty good for the road. We had all ours guiding books with us. And the aim was this time Peloponnese.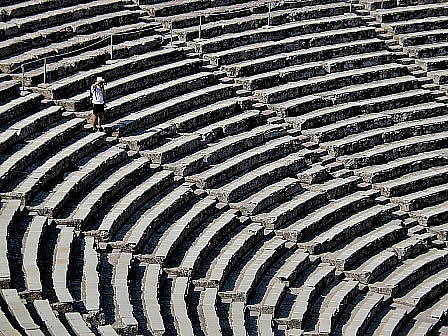 Trip to Epidavros - Greece
Our first stop on Peloponnese was Epidavros – an ancient town and theatre, which is because of the location, good preservation and incredible acoustics very interesting. The starting point of this tour was littoral town Nauplion, which is 35 kilometers far away from antique town Epidavros. The town of Epidavros lies 55 kilometers south from Korinthos and around 125 kilometers from Athens.
Epidavros theatre - Greece
Epidavros has very well organized parking place, where people can park their cars. For the entry in the museum you will of course need to pay the entrance fee. Amphitheater – theatre which can takes around 14.000 visitors, is really worth of visit.
The acoustic of the theatre is worlds known and you can try it for yourself. People can go on the top of the theathre and listen to the conversations and creaking of the sand under feet from the people below.
Besides this, the theatre which is still active is surrounded with hills and green pinewoods, which offers very beautiful picture. With the entrance fee tourists can visit the archaeological museum, with statues and broken columns of the temples. The remains of onetime roman lodging house which had the two floors and together 160 rooms.
Ancient Epidaurus - Greece
In the ancient Greece, Epidavros was a small town, which was because of famous health resort known all over Greece. Today people come to Epidavros mostly because of the theatre remains. Greece theatres were built under the hills and they are still very interesting sightseeing point for people from all over the world.
Thet theatre of Epidavros is one of the most special – it is one of the biggest, and one of the most acoustic theatre from the antique era. Believe it or not, but from all the corners of the 55 stairs, where people can sit, you can hear the speach from the actor the same. Recent investigation, tryed to uncover, what makes that theatre so acoustic. And they figure it out that the secret lies in the material that is in the sitting places. Sitting places are chiseled from limestone, which retain low sounds, for example muttering of the crowd, and at the same time it strengthens the sounds from the stage.
Ancient health resort of Epidavros - Greece
For healthy body is needed a healthy spirit. The architects in the ancient period knew very well their business. Theatre in Epidavros was built in 4. century B.C. besides the big health resort. Greek people believed that in that place son from god Apolon Asklepij was born and he becomes patron of healers and doctors, that is why they built on that green place nears the sea health resort for the body and spirit. They heal sick bodies in spa., on sport courts and with medicaments. They believed that the body cant recover if the spirit is not healthy, so they regularly visited theatre shows in health theatre