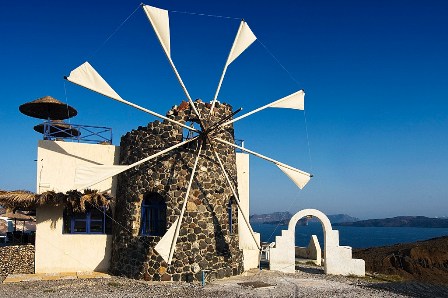 Sifnos - the island of Apollo god - white, cube-shaped houses, paved alleys, with limy hinges, hospitable courts with white stone benches. Picturesque churches with white or blue domes and luxuriant bell towers, verdurous valleys full of olive-trees, and crystal clear beaches, are the elements that will fascinate every guest and they will definitely charm you and call you again and again and again.
Sifnos Island Greece
Sifnos is one of six small islands of Cyclades group . A pedestrian alley way in Sifnos retaining of traditional ways of life, The island of Sifnos is well known for its food as well, and many famous chefs have come from this small island.
Sifnos sights

There are many places which are worth of visit in Sifnos islad. The Church of the Seven Martyrs is built on a rock, hanging over the sea. In Artemonas, the Church of the Virgin Mary Ouranofora features a tall steeple and a gilded »iconostasi« (the screen bearing icons, dividing the altar from the main hall). The remains of the medieval harbor in Seralia. The cave chapel of Panagia tis Chryssopigis, built in mid 17th century. It is said that the icon of Zoodochos Pigi (Life-giving Source), patron saint of the island, made its way miraculously from the water to the site where the church is today. There are 366 chapels scattered on the island. The Venetian castle with its battlements.

Beaches of Sifnos island

Chryssopig beachi: Is divided naturally in three smaller beaches shaped in a unique way. It will be hard to leave this beach that offers an abudance of choices. Faros: Located on the southeastern side of the island, this beach is known for it sold lighthouse which now serves as a monument. Perfect for relaxing, swimming and dining.
Vathi: Named after its deep (vathia) waters, it is the most tranquil beach on Sifnos.
Heronissos: A very beautiful beach on the north side of the island. Platy Yialos: the longest beach of Sifnos that attracts a large crowd. Other beaches worth visiting include: Seralia, Poulati, Apokofto, and Fykiada (only by boat).