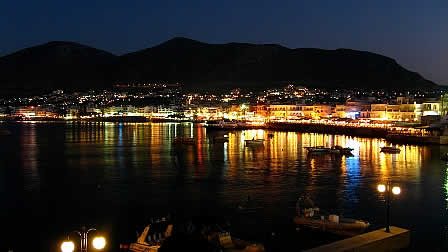 Couple of years ago I was in Heronissos in Crete and it was amazing. Good company, delicious food and nice people. I will definitely come back. The bay of Malia and Hersonissos is a huge touristic area near beautiful sandy and rocky beaches.
Hersonissos - Greece
The beaches among Malia and Hersonissos is around 8 kilometers long. Hilly hinterland is full of vineyards, fruit gardens and banana plantations. On the beach there are many hotels of all classes from standard to luxuriant hotels. The whole beach area offers tourists other accommodation possibilities such as nice apartments and family rooms in private hotels. There are also many smaller shops and exclusive stores, nice Greek restaurants with delicious local dishes, with quality island wines and acceptable prices. For night life is here plenty of clubs and bars.

To the party in Hersonissos
Once fishing village Hersonissos is now one of the biggest touristic places on Crete. It offers everything what guests desires. Tourists can discover the area around Malia bay with very good bus conections to Malia (8 kilometers), Ag. Nikolaosa, Heraklion (29 kilometers) or to the airport, which is far away around 30 minutes drive with a bus. This old fishing village has one of the oldest tradition of tourism on the island. The resort is appropriate for everyone who loves to party, shopping sprees and good Greek food.

Villages around Hersonissos and family holidays
The harbor of Hersonissos is famous for its night life and is mostly preferred by younger tourists who want to have the fun at the beach and enjoy the nightlife, while the neighboring villages offer quiet and peaceful environment for family vacation. Near Hersonissos there are a few small villages like Gouves, Piskopiano, Koutouloufari and Old Hersonissos which are overlooking the busy resort of Hersonissos. The village of Gouves is very good for family vacations. This small village lies on a peaceful area only four kilometers far away from touristic center of Hersonissos. Village of Gouves is known for beautifully long gravel beach. In the village you can find a lot of stores and bars along the beach.
Piskopiano village

Piskopiano lies around two kilometers away north from Hersonissos, it is a small and friendly village. It lies on the slopes of the mountain among the villages. Piskopiano offers people many of restaurants, taverns, cafes, and local people are very friendly and hospitable. The village has around 400 inhabitants it has some nice bars where people can enjoy a little bit of a night life. Piskopiano has a very beautiful church and a museum that is both worth visiting. In the village is enough opportunities for accommodations.
What to eat in Crete

The main ingredients in Cretan cuisine is fresh olive oil, garlic with herbs, vegetables from gardens fish and meat. The simple dishes have often a little bit of oriental scent. Besides known Greek dishes (souflaki, Greek salad, egg plant souffle), they offer people in all restaurants also Cretan specialities.
The most known are strong lamb, goat or sheep stews and also many other vegetables soups. Very popular are egg plants, tomatoes or paprika filled with rice, grinded meat and fresh herbs. The main Cretan drink is cooled water. They have some good wines that go perfect with their food. Their national Cretan brandy is called tsikoudia – grapeskins brandy, which reminds a little bit on Italian grapes and is similar to strong spirit made from grapes.