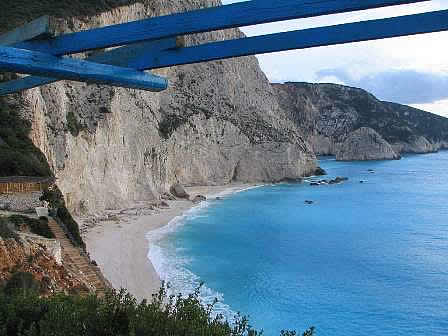 Beach under the sheer white cliff
Porto Katsiki is a beach which lies under the sheer white cliff. Almost most of us love sunbathing on sandbank beaches.. Even from far away you can admire the white gravel beach. Walking and lying down on tiny stones are much more comfortable than lying on very fine sand. The most beautiful beaches we can find on the west coast of Lefkas. If you discover the beach from the north to the south you will found out that every second beach is more beautiful and more spectacular. The queen of all beaches in Lefkas in any case is the beach of Porto Katsiki under the slope of white cliff.
Porto Katsiki Lefkada
You can reach Porto Katsiki beach by car from Lefkada town which is around 40 km away. In august mounth the beach could be pretty crowded.
The road to that beach is a little bit complicated because you have to drive on a winding road to the hilly inland. You can park your car at the top of the cliffs. Going on the way to the beach you can buy some snacks or drinsks from locals. Porto Katsiki beach is pretty hot in the afternoon because there is almost no shade.
Even the beaitiful beach of Porto Katsiki, the nearby inland is very interesting with sleepy villages and plantation of olives and grapes for wine. There are many visitors that want to live in that area. In the village of Dragano visitors can experience living in one of the renovated old houses. The house is called Meli, which in Greek language means honey.
Living in this house truly is sweet as honey not just because of the hospitality but also because the house is renovated very carefully and equipped with stylish furniture. Guests can choose between three rooms. The house is suitable for small group of people.