Lousios gorge is another valley in Greece which we wanted to visit after hiking through Vikos Gorge. When we were looking map of Peloponnese it seems there is only mountains.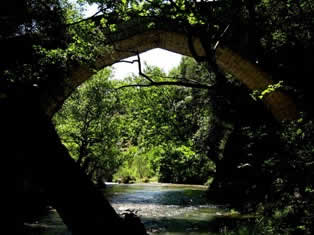 Trip to Lousios gorge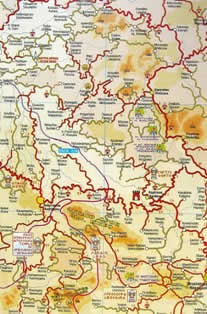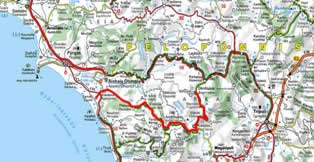 Canyon is situated near Dimitsana village rounded with mountains in a northwestern part of Arcadia municipality. Dimitsana is a small typical Greek village with about 600 natives, with scool church post office, water museum, hotel and aquare in an impressive mountain area, with small picturesque villages.
Where is Lousios gorge located
The origin of our trip was Kato Samiko near Ancient Olympia village where we stayed in Orange garden apartments. We were taking the routh Kato Samiko - Krestena - Andritsena - Stemitsa - Dimitsana. Dimitsana (Greek: Δημητσάνα) is about 100 km far away from Kato Samiko coast reachable over hill country, winding, but asphalted road. There are three main villages from where we can explore area of monasteries and Lousios Gorge: Stemnitsa, Dimitsana and Elliniko. The villages are located on the slopes of valley. Folow in signs to the gorge we turned at Elliniko town on the narow, full of turnings, but newly with asphalt covered road to the bottom of valley.
To the bottom of the gorge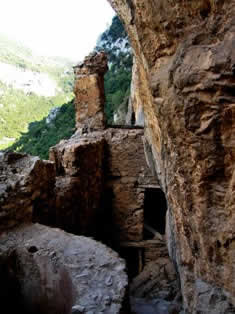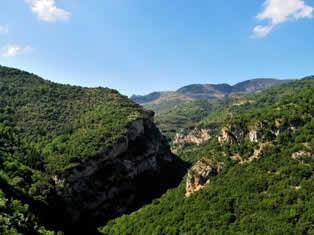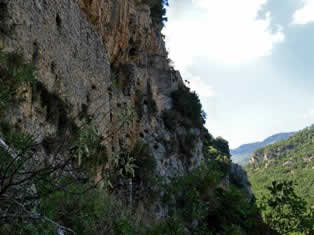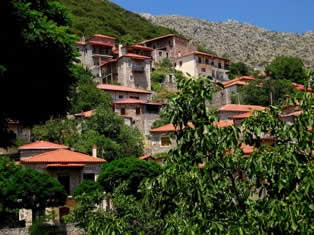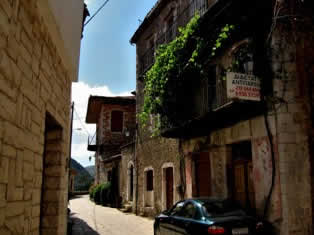 In the bottom of gorge was a fine old bridge across the Lousios river and an old church of Ayos Andreas. Iit's also possible to take a 30 minutes walk up the river to an old monastery which actually is glued to the mountain wall.
We didn't have the time to visiting other ruins because we have trying to find moni Philosfou - the old monastery from 17th century. We turned back and up to the Stremnitsa. We couldn't drive very fast, but we missed branch to Philosofu moanstery and so reached in Stemnitsa. We didn't matter because the town was very kindly and from there were nice view on gorge. After dining we went back in direction of Dimitsana and but then turned down (again) to Lousios gorge. This time we found wright road towards Philosofou Monastery
Road to Philosofou moni
On the same places the road was a bit off the beaten track. There is a place only for one car. The view from the slopes where road leads us, was quite spectacular. In the distance we saw the monastery, Philosofou, hanging on the edge of a cliff. From the road we walked down to the 17th century monastery and were greeted by the monk who still resided there.
Because of heeat, he invited us in the room of chapell, fill in cool water in glasses, sat beside and then we chat about weather and moni and so on.. . Very kind. After cooling we descended to old part of monastery, that was made below cliff.