Skiathos an Aegean paradise. Emerald blue waters, pine and olive trees tricling down to the beach…Quaint hamlets and beautiful cove with a cosmopolitan atmosphere are some of the elements that compose this paradise on earth.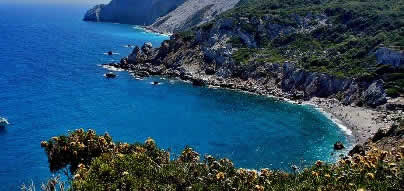 Charming Island of Skiathos
Charming landscapes, pine trees descending to the sea, sandy beaches and crystal clear waters set the uniqe location, on the beach of Skiathos.

Entertainment
Rock'n'roll bar Moraitidou & Synt. Riga,. Located on the quaint cobbled backstreet of the Old Harbor. In 2004, it received an award as one of the best bars in Europe. Sit back and relax on its large cushions and enjoy your evening, listening to the great rock hits of the 70s, 80s, and 90s selected by the Dj and savoring one of its famous cocktails.
Goggas cafe: At the old harbor, feauturing good ethnic music and great drinks. Kalhua, Remezzo, and BBC are additional options.
Beaches of Skiatos
Koukounaries: A beach where pine trees trickle down to the water. The Strofilia lake is in the area and very close to the sea. It is a significant water park where swans, several kinds of ducks and other birds spend the winter.
Aghia Paraskevi: Golden sand, crystal clear waters and lush greenery.
Lalaria, the white-pebbled beach. You will reach the GALAZIA beach and SKOTINI SPILIA by cacique.
Achladies is one of the best Beaches on the island. Tsougria, is a green islet with gorgeous beaches, opposite Achladies. Bourtzi, a pretty beach close to the Chora. Kanapitsa, Megali Ammos, Tzaneries, Trypia Petra, and Kastro are some of the many beautiful beaches of the island.