Many of people by mentioning of the word Bali thnink to Indonesia. But there is another meaning of the word. Here on Crete island you can find small village and tourist destination Bali. More accurate - it is a small fishing village, which is due to its unspoiled nature has become attractive for tourists and visitors.
Holidays to Bali - Crete
Bali is a village located in a small bay that is surrounded by hilly background. Holiday in this peaceful environment will definitely want to spend couples and all those who wish to enjoy with nature and a rest in peaceful.
Where is Bali located in Crete? Bali is around 35km away from Heraklion, around 45km from Rethymnon and 95km from Chania. You can take regular bus lines to to reach these cities.Unfortunately, the bus station is located 2km out of the town. Best choice for transfer and transport in Bali Crete is your own car or renting a car.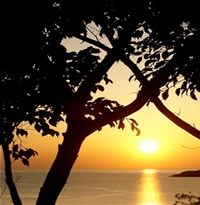 What to do on holidays in Bali Crete
In the nearby of village of Bali can be found four sandy beaches Livadi, Kouskouras, Liman, Karavostasis. Due to leeward location of beaches the sea is very calm and locations are suitable for families with children. Livadi is the largest beach, but in high season is very popular. At the beach are also taverns and bars where you can refresh. Kouskouras beaches are accessible only by foot smaller and probably less popular. Karavostasis is small and in this part the most beautiful beach, because of that it is often very busy. Liman is a beach close to the Bali port, next to it you can find many taverns.
Visitors who wish to explore the surrounding area they can take advantage of the trip where they will visit the monastery in the village of Agios Ionnis, underground cave Meldioni in a mountain villageof Margarites. Those who likes sea and islands should select a trip and visit the famous island of Santorini, Gramvousa and in addition visit historic town of Rethymnon with its sights.
Where to stay in Bali Crete
In the village of Bali you can choose from small hotels that are near the sea and offering a beautiful view to the port.
Aparthotel Sofia in village of Bali offers a variety of comfortable accommodation to suit your needs, just 50 metres from the popular sandy beach.
Hotel Stone Village apartments are traditionally decorated featuring dark wood furnishings and stone walls. They have a fireplace, a fully equipped kitchen and a dining area. The restaurant prepares traditional Cretan dishes made with ingredients produced in Stone Village's own farm. Inside the complex, there is also a small traditional winepress.