The island of Lefkada is famous by its beaches, which include the impressive 117 kilometres. Most of beaches can boast with a laudatory beauty titles and won of Blue Flags for cleanliness of the sea.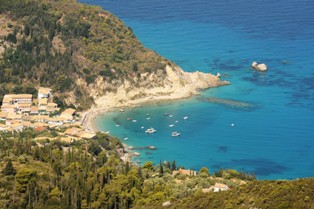 Where is Lefkas island
The island is a true kingdom of sandbank beaches. It lies on the southern part of Greece and it is connected to the mainland with only one floating bridge. Thats why this is one of the most handy Greek islands and the most suitable for visitation with your own car. But not only that, Lefkas is beautiful island with many little specialities and natural attractions.
The bridge among the mainland and the island moves once at every hour so the cars could drive on the island. On the dunes among the island and the mainland still stands mighty fortification called Agia Maura, which successfully protected locals from attacks of the pirates and other aggressors.

On the beaches of Lefkada
Lefkas Island has some fine beaches, and attractive offshore islets. If you plan your stay in the town of Lefkada it is good to know that there is no beach. You will be find it about 5 km away across the lagoon at GYRA. This place is very popular to windsurfers.
The most popular beach on Lefkada is Porto Katsiki with its limestone cliffs and white sands. You can reach Porto Katsiki beach by car from Lefkada town which is around 40 km away. In august mounth the beach could be pretty crouded.
On the South West side of Lefkada lies the beach of
Egremni
. Find a road which is located a few kilometers from the Athani village. You have to descend by car to the beach. At the end you have to descend by steps (300) to the beach.
The village of Nidri is one of bigger village and it lies on the eastern part of the island around 17km south of Lefkas town. From here and to other nearest islands who are farther, the touristic boats are sailing almost every day. The area around Nidri is the main target of tourist, and in the high season there could be a pretty hustle bustle.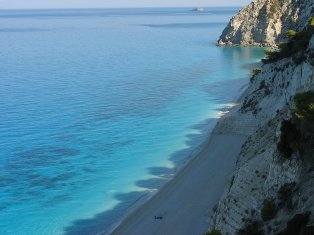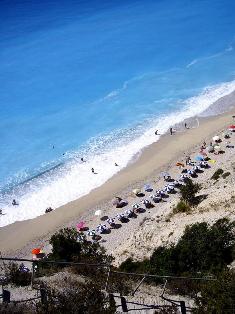 The nearest islands are in private property, including the island of Scorpio, which is the property of the rich family Onassis. Some of the touristic agencies have even got permission to go with boats on that island.
But they are only allowed to swim and enjoy on the beach and discovering of the rest of the island is strictly forbidden. We can find similar vivid touristic town on the south of the island in the wide bay, which ends with long beach. Vassiliki is a surf-riding paradise with constant winds and is very popular between people who loves sailing sports. Another beaches worth of visit are Gialos, Kathisma, Milos, Pefkoulia