Enlarge this tourist map of Crete explore Crete and find your beach. You can find dream beaches especially on the most east and west part of the island. On the east part you have gorgeous beach Vai, which is adorned with real forest of endemic palm trees.

Arrive Crete island Greece
Crete, sometimes spelled Krete is the largest of the Greek islands.The island of Crete is situated between Europe, Asia and Africa continets. The island of Crete Greece is about 220 km long and 50 km wide. The population count half a milion of inhabitants.
You can reach Crete island by boat or by plane. Fly to Crete is comfortable because you can land in one of three airports: Heraklion airport or "Kazantzakis" airport, Chania airport or "Daskalogiannis" and the small Sitia airport Heraklion and Chania are international airports, Sitia airport is currently receiving domestic flights only- see the map of Crete
Ferries to Crete island depart from Athens, off course you can choose also departures from Thessaloniki, Rhodes, Kalamata or Gythio. From departure places you can reach six main por tin Crete island: Chania, Rethymno, Heraklion, Ag. Nikolaos, Kastelli-Kissamou and Sitia.

What to do in Crete island Greece
There are a lot of places to stay from bed and breakfast apartment buildings, luxury hotels to rent a room facilities.
The cities has got a rich night live you can chose between vibrant discos, pubs and bars along the harbour, to relaxed, calmer bars on the beach. Tourists can find there also interesting shops with souvenirs and some of shops with unique, traditional Greek merchandise.
Places to see in Crete island Greece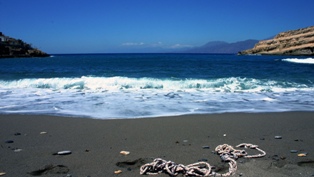 Heraklion
Koules Fortress in Heraklion.
KNOSSOSPALACE and labirintus near Heraklion
Matala and caves.
Archaeological Museum in Heraklion.
Gortys archaeological site.
Chania
Fortress Fragokastelo.
Samaria Gorge National Park.
Rethimno
City with Fortress.
The cemetery of German soldiers and British soldiers in the cemetery of World War II.
Canyon
Mosque Rethimnu
Lassithi
Agios Nikolaos, a small town in the bay.
Spinalonga.
.