The town beach of Bastia could be in summer very crowded escpecial with pupils. The central town beach in Bastia is only worth visiting. It is an urban resort and good place for locals and those who want a last swim before catching the ferry. A better idea is the long beach of L'Arinella. It is about one kilometre to the south of the the city of Bastia.

Town beach of Bastia
A bus to L'Arinella leaves from outside Café Riche on boulevard Paoli every twenty minutes. Get off at the last stop and cross the train line to the sea. There is a water sports centre and recent improvements in sewage plants as well as daily cleaning of the beach.There is a lot of space – you could walk for miles in the sand.
L'Arinella beach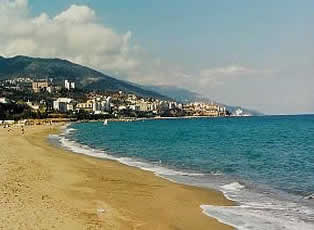 Arinella is Bastia's main beach. The beach is an family type with a lot of water games for kids with plenty of parking and about everything you might want. The scenery and sea isn't something specialy execpt for a view to Bastia. If your goal on a holidays in Corsica is to discover their beaches this could be one of your seeking.
It is good idea to join sunbathing on beaches around Bastia with visiting of the Bastia City. The city it self is not that big, you could actually see almost everything in just one day by foot. If you start in the morning with sunbathing and end in late afternoon with strolling through the streets of Bastia it could be a nice day trip. You can start at the Saint-Nicolas Square, as the heart of the city, then continue to Citadel (the old city). There are many beautiful buildings like churches with beautiful gold decorating , museum and of course many cafe and restaurants.
Accommodation around Bastia
If you prefer holidas in Corsica in area around Bastia then the location away from the city centre of Bastia, the balcony with the sea views and the beautiful purple flowering plant then you have to book hotel around Bastia town.
There are many hotels situated around Bastia town where you can enjoy Corsica holidays. You can choose from beautifully situated, with magnificent views of the sea, an exquisite garden with or without pool. you will enjoy at the good breakfast and view to the sea.