Saintes Maries de la Mer is also known as Saint Marys of the Sea. It lies in south of France and is the capital of province Camargue. The town lies near Mediterranean Sea on the south-central coast of Mediterranean France in the Camargue region of Bouches-du-Rhone. On a thiny Peninsula the town was in the past a fishing village.Other medieval villages are usually more picturesque then Saintes Maries de la Mer, but town has been renovated and it changed a alot in the past years. Now it is known to be a compact, beautiful mediterranean resort with many activities, restaurants and shops for tourists.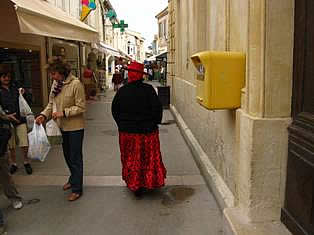 Arrive to Camargue natural park
The town lies on a great location close the sea with completely renovated harbor with side restaurans and bars. Saint Maries de la Mer has usually nice weather throughout the year, especially in summer months, there are a lot of people in town that enjoy in variety of activities that town has to offer.
There are many interesting outside activities that tourists can do in Saintes Maries de la Mer. One of the most known activities is Camargue horse riding. You dont need to be a professional horse rider or a cowboy to experience one of the biggest horseback wetland in France. They have stables all over the wetland ara, that includes mix of dunes, lagoons seashore and tracks.
Area around the town offers also bull riding shows in arenas, races, bull fights, tennis-golf couts, mountain biking. If you want to explore region by bike - they have also possibility to rent bikes. All kinds of water sports including with nudist and public beaches. St. Maries de la Mer is very famous and has pretty old tradition of being the meeting area for gypsies from all over the country. Their rich music and culture is very attractive for lot of tourists.
Pink Flamingos and riding trip to Natural park Camargue
Camargue natural park is also known to be France wild west.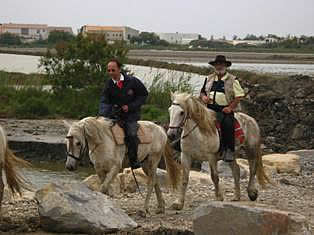 The park include the Rhone Deltawith two sub areas - Grande Camargue, at the mouth of Rhone, between its two arms - Grande Rhone and Petite Rhone - and Camargue Gardoise, west of Petite Rhone.Animals that stands out as the symbol of Camargue region is the flamingo. The bird is known by the pink feathers in combination with another layer of coral-red or bright-red feathers.
Camargue is with one or two region in Spain the only place in Europe where flamingos nest. The flamingo population of Camargue is of about 20,000 pairs, breeding in colonies strictly observed by human guardians. The flamingo nests are made of mud raised over the ground level.
Accommodation in Saintes Maries de la Mer
Saintes Maries de la Mer has a great mediterranean restaurants that are limited and they are serving mostly local cuisine.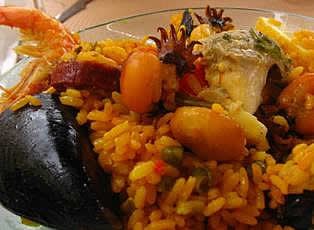 Popular locations for dinging are around Cavaliere. A lot of restaurants are using ingredients that are very fresh and come from the farm. Food is fresh and simple.
Restaurants are in typical Camargue style. Famous dishes are bull chops, grilled eel on wood, fish served very simply with Camargue salad and rice. St. Maries de la Mer offers a large variety of accommodation places from nice apartments, hotels, houses, villas, and studios. Most hotels are near the beach and have full service with spa and outdoor pools, restaurants and gardens.