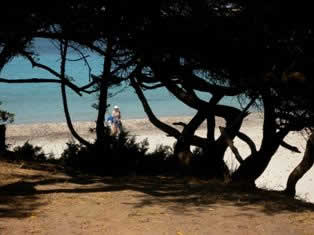 Beauty of Corsica island is a source of infinite debate where are its most scenic beaches and majestic peaks. There's single point of common deal, however: the island's amazing marine sights are start in its natural world reserves.
Here is one of Corsica's sights: The beach of Roccapina is in natural and protected countryside, mostly free of any development. Above the beach stretch a massive rock formation - Lion of Roccapina . The beach of Roccapina has fine sand and crystalline sea.
It is easy of access and until now has plenty of space. In winter time the beach is one of the most beautiful bits of coastal surroundings and even with olidaymakers, it loses none of its grandeur.
Where is Roccapina beach
Afterward a short trip to Bonifacio, where we visited a few neighboring beaches, we went leisurely to the west. To arrive at Roccapina by car drive on the N196 road, 32km north of Bonifacio. The panoramic way is picturesque, there were almost no traffic.
On the way to Filitiose settlement we stopped at one of the most scenic beaches in Corsica - Roccapina beach. We had a gorgeous panoramic view to the seaside in the bay. We immediately started looking for a turning of a road which could lead to the beach. Lastly we found a turn. Before we turned a auto to macadam way I try to figure out if the auto might counter the craters on the road. The way that leads to the plage is in pretty terrible shape, but with a slow driving overcome even very horrible hole. The seaside is a paradise and it is worth seeing.
What to do in Roccapina beach
Above the seaside is the "Lion of Roccapina", a geological rock sculpture, on which the dramatic lion-shaped rock and a Genoese watch tower control.
The stonework rocks turn an atmospheric red color on sunset. Ascend in the crown is very dangerous with major danger of lethal fall. I do not propose to do this even if you are a frequent rock climber except you have a climb rope.
It is not that difficult as I climb this part without rope and with usual sport shoes, but some error would be absolutely lethal so assess your potential twice.
Roccapina is popular as one of the finest beaches in the south of Corsica; gentle, fine sand and transparent shallow turquoise sea sheltered by rocks at either end. The seaside is particularly broad and plane, making it ideal for beach games and as the sea is shallow it is a very popular for little kids. There are nevertheless no services at Roccapina plage, nor a lot shade, so it is important to take your own meal supplies and sunshade. The sand here is just right for sand castles so you can try your talent in the design of castles, pyramids, sphinx an so on.