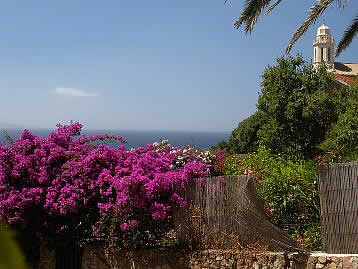 You have to stop at this charming Corsican village with houses made of red granite. From the top of village (400 metres above the Gulf of Porto) is a great view to the landscape an the sea. Piana village was founded in 1725. The church of Sainte Marie is from late 18th century.
Piana village
From the Piana road lead down to the harbour and a nearby beach. But the village of Piana itself is only part of the reason why people visit this rugged part of Corsica - it is the scenery along the road from Piana to Porto that winds through an amazing landscape, known as the Calanche, that is the main attraction.
Arone beach
At first You have to drive through spectacular road to the Arone beach. Arone ( GPS position 42°12'31.37S; 8°34'46.63V) is atractive beach, about 15km from the village of Piana.
There's lovely sand and it's reasonably quiet, though some development is taking place round about. Arone beach is a highly touristic beach. It is perfect for family with small children. You can also rent kayak, jet-ski, windsurf.
You may prefer to snorkel along the small cape on the North side of Arone.
Of course you can choose a short hike to the Capu Rossu which is the South cape of the bay of Porto on the West seashore of Corsica. This 2-4 hours hike offers great panoramic view on the region of Piana-Porto-Scandola.
Holidays in Corsica: Piana village
Hotels are Ideally situated outside the village of Piana. Inthe village of Piana is located hotel Mare E Monti with 12 comfortable and fully equipped rooms with a loggia and a view of the sea or mountains.see also hotels in Porto - Corsica
The hotel provides comfortable accommodation. It is ideal for a relaxing holiday or origin for hiking around. The nearby hiking trails offer numerous opportunities to discover the picturesque surrounding area, and they are accessible to walkers of all levels. Another destination is town of Port wher you can choose from more hotels..