Bay of Girolata is an exceptional location. Here, the island has reserved its natural smell. The amazing attractiveness holds attention of every one.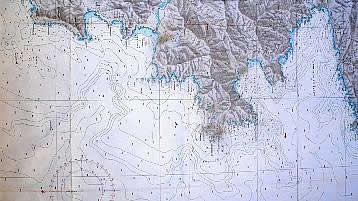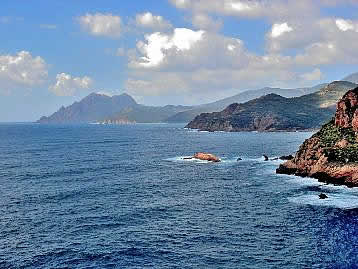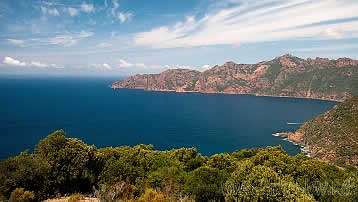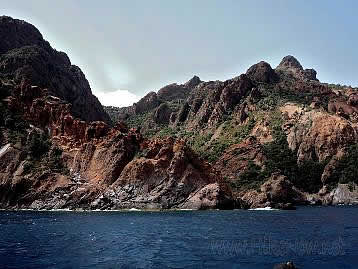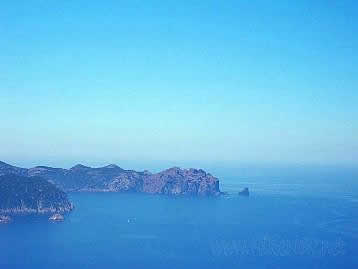 Bay of Girolata
A only few times away, Girolata had no electrecity an no telephone connection. The postman was the only connection with the village. Still today, there is no road leads to village. The location of village with the tower is right in the midlle of the Bay. The green of the bushes mingles with the azure of the sea. Girolata is the only village in Golfe. Access to the village is possible only by boat or by foot.
On the coast of Girolata bay
Girolata village lies on the edge of the Scandola nature reserve (which is located on the west side of Corsica) one and a half hours on foot from the Bocca a a Croce on the D81 (Calvi-Porto road), In high season the village gets, regardless of bad access, very crowded. You can take a easy hike to the village which is a favourite tourist site full of restaurants and bars.
The natue reserve, occupies the Scandola peninsula, an impressive, porphyritic rock mass. Because of untached nature ther can be found Seagulls, cormorants and sea eagles. The clear waters, with their islets and inaccessible caves, host a rich marine life. The clear water with islets and caves host rich marine life. Under the sea betwen thirty and forty metres it is circalittoral level (The area of the continental shelf sea-bed that lies below the zone of periodic tidal exposure.) and paradise for divers.
Holidays in Corsica
You can choose a hotel around the town of Port wher you can choose from more hotels.. see also hotels in Porto - Corsica
You should decide what type of accommodation in Calvi you require. You can coose among the budget hotels Calvi or family hotels in Calvi, top hotels Calvi or Calvi cheap hotels. Accommodation in Calvi - Corsica: there are many hotels in Calvi with nice, comfortable, quiet rooms, wonderful restaurant with beautiful view and friendly and helpful staff.