We visited France region of Provence twice. On our first travel in Provence we explored Camargue and its coastline. This time we vistited Arles, Avignon, Saint Gilles and other inetersting small towns and places in Provence. Both, Avignon and Arles are interesting historic towns with charming streets in its centres. All the region of Provence is situated close the French part of Mediterranean sea. Because of its coast proximity, the region is appreciated by many travelers and visitors of France.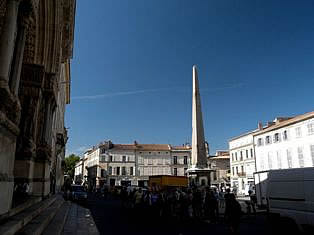 Stroll through the streets of Arles
We began our trip to Arles actualy from camp site of the small town of Saint Gilles. Of course there are many other possibilities for accommodation like small hotels and appartments or even bungalows. We drove with a car about 20 km to the Arles and parked close the city. Our trip continued by cycles which are actually our favorites (and also usefull) transport things by exploring cities. Almost in the centre of the town we found Tourist information service where we equiped with city maps, brochures and other tourist informations.
Of course you can visit all the streets of the Arles town by foot, it is also a good idea to go around with the 'le petit train' for a bit of a tour of the town.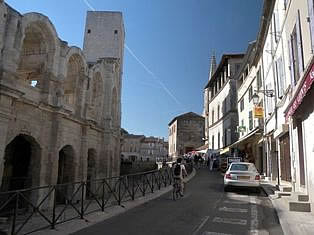 Short history of Arles
Occupied first by the Celtic tribes, then by a Greek colony, Arles became Roman when Julius Ceasar gives the colony to the veterans of his legions. This is the first Golden Age of Arles, Starting from the earliest days of Christianity the city will also becomean important religious centre. Destroyed and ravaged by invasions during the middle ages, Arles was rebuilt during the 12th century.
The magnificience of it's medival monuments is evidence to the vitality and wealth of that period.
During the 17th and 18th centuries were built the stately townhouses which are part of the charm of the old city, where dozens of buildings, some dating back 2000 years, are listed as historical monuments. Arles covers a surface of 77,000 hectares(177,100 acres) including 2/3 of Greater Camargue, which makes it the largest township in France.
Attractions of Arles
We started the trip through the town by visiting the old town centre and Amphithetre. It was built around year 90 and it could recive about 20.000 spectators. In the morning there was only a few locals who prepared their shops or caffes so we enjoyed peacefull of the visit. There are also other sights which are worth of visits.
The Roman theatre built in the first century BC, Saint Trophime's Cathedral with magnificient Romanesque facade and many other. Do not forget also famous painter Vincent van Gogh who lived an period of his painting era here in Arles. Visit also the espace of Van Gogh an former Hospital where Van Gogh was a patien in which he stayed in December 1888 and again in January 1889.