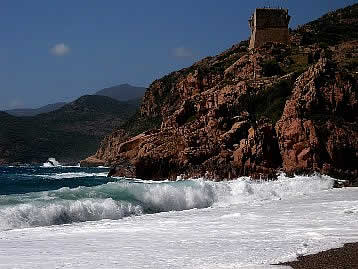 The town of Porto is today seaside resort with almost all watersport facilities. The marina is the centre of life in this well placed Corsica town. The watchtower above the town beach is a good place to look around. It is a Genoese tower which was build in the year 1549.
Next to the village with its many hotels, cafes and boutiques is wide beach of Marina. There is also an aquarium where you can see some of the sea creatures that live in the sea off the coast of Porto.
Resort of Porto
The resort of Porto could be also as origin for exploring highlights of this region like Scandola, Spelunca Gorge, the Calanches de Piana and the Foret d'Aiton. This region of Corsica has been designated a UNESCO World heritage Site.
Marina, Bussaglio, Gradelle, Caspio beachs
The coastline around Porto has several attractive beaches. First beach is town beach close the Marina of Porto. If you are there in the town of Porto take a trip out to the Scandola reserve by rented boat. If you don't have a license, you can rent a little boat that takes about an hour and a half to get you there,
Ok, you can choose also one of various boat trips that can be taken out to sea and to admire the coastline and secret beaches of the Gulf of Porto. The shoreline is absolutely stunning, the water was crystal clear, there were critters everywhere, and the water was warm and wonderful.. North of Porto, among the coast's cliffs are some beautiful beaches that can be reached either by car or by boat. The most beautifulare the pebble beaches of Bussaglia beach, Gradelle beach and Caspio beach.
Hotels in Porto and Piana village
Hotels are Ideally situated outside the village of Piana. Inthe village of Piana is located hotel Mare E Monti with 12 comfortable and fully equipped rooms with a loggia and a view of the sea or mountains. see also hotels in Porto - Corsica
The hotel provides comfortable accommodation and holidays in Corsica. It is ideal for a relaxing holiday or origin for hiking around. The nearby hiking trails offer numerous opportunities to discover the picturesque surrounding area, and they are accessible to walkers of all levels. Another destination is town of Port wher you can choose from more hotels..