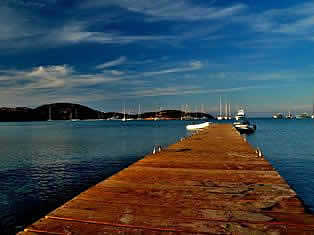 In the south of Corsica Isle, between settlement of Porto Vecchio and Bonifacio, is positioned the attractive bay with turquoise sea named Rondinara. Finding Rondinara is not a problem at all.
You will locate signposts 'Suartone' and 'Rondinara' at the main road N198 (Bonifacio - Porto Vecchio), about fifteen km North form Bonifacio. The way is not very good and curving. It brings you to the village Suartone in the middle of area where all around you can see just hills with maquis. The district often suffer from fire. A few minutes later you can enjoy the sight at the bay. When you pass the camping, you will find a sizeable parking, almost at the Southern ending of the beach. From here, you can discover the bay or choose hike South in the direction of the other bay. There you can find underwater paradise and an location for windsurfing for beginners and superior.
Camp site of Rondinara
Families with small children will be excited with a wonderful beach where kids be able to play safely. Tenting location of Rondinara is situated about 500 m five hundred meters from the beach. It is open from May 15 to September 30. On terrain of almost six acres, there are 3 services with hot water, washing machines, handicapped access, smuggling of essential kinds, hire of mobile homes and two hundred sq meters swimming pool. Practically all camping places are positioned below the trees what is worthwhile in warm summer time days.
Campsite Rondinara offers the next facilities: Electric Hookup on hand on some or all pitches - Take pleasure in the benefits of a mains power supply to your tent or caravan. On the site you can purchase or exchange Gas Cylinders. There are another usual facilities of cam sits like , toilets and Showers, Washing up facilities, Launderette, a club, a restaurant, a childrens play area, Outdoor Swimming Pool, fishing, water sports, shop to buy food and some essentials.
One of the best beaches of Corsica - Rondinara
Imagine rounded seaside with fine sand, turquoise waters, surrounded with reddish rocks.. well that's Rondinara beach. Just a ten-minute leisurely walk away from the campsite on a path through the scrubland, the beaches of Rondinara are free and make a nice playground for kids as they slope gently into the sea. A user-pay parking lot is located nearby to ease the approach to the seaside. The beach is long and broad. Close to the waterline the beach is sometimes covered with dead sea grass. The Southern edge of the bay is in truth a peninsula: Punto de Rondinara.