Nonza, a small village about 18 km from St Florent is positioned on a high cliff overlooking to a long black beach.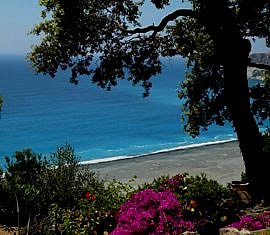 From the top of the village the black beach looks fantastic. The only thing which seems to be a bit unusual - it is almost empty even in high season.
Nonza's long black beach is result of pollution from the abandoned asbestos mine. The beach is so fantastic that we can hardly believe that it is polluted. However, we strolled through the hot sand of black and almost deserted beach.
Nonza village
Read also text below by Wikipedia
The Torra di Nonza is a Genoese tower in Corsica, located in the commune of Nonza.
It is one of the Official Historical Monuments of France since 1926.[1][2]
The tower of Nonza is famous throughout Corsica for its siege in 1768, during the war between Pasquale Paoli's independent Corsica and France. The troops protecting the village of Nonza had been taken prisoners by the French troops north of the village, but the commander of the troops had remained in the tower.
It is said that he managed to make the French troops believe in a fierce resistance during the siege, so that the latter would agree in his conditions for surrender, that were to let him join the rest of Paoli's troops, and to grant him the military honours.
When he came out alone of the tower, the French commander, stunned, asked where the troops were. He is said to have answered : "here is the commander and the troop"
Nonza beach