By dragoA
We visited Pont du Gard area on our exploration trip around town of Arles. I saw this three-storey bridge and aqueduct on pictures in diferent sort of guids. Its arches, proportion and dimension of the bridge works powerfully. From Arles to Pont du Gard (35km) we drowe in direction of Beaucaire and Remoulins to the Pont du Gard (GPS 43 56'51" 4 32'05").There are many signs with picture of bridge. There is also a larger parking place (fee) where you can live your car in a shadow of trees.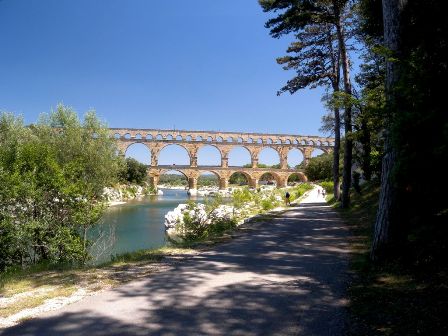 Le Pont du Gard interests
My first interest of visit Pont du Gard was actually to see historical architecture. I forgot that bridge and aqueduct crosses the river of Gardon and the place is actually suitable for recreation, sunbathing and leisure. Luckily we took swimwear and bicycles.
The Pont du Gard belongs to the UNESCO World Heritage Site. The bridge is in excelent condition (by my personal estimation) as well as 2000 years - it seems unlikely but it is thrue.

This monumental Roman construction was built to brought water from the springs of Fontaine d' Eure to the Nimes. The total down gradiant on 50 km long aqueduct amount only 17 metres.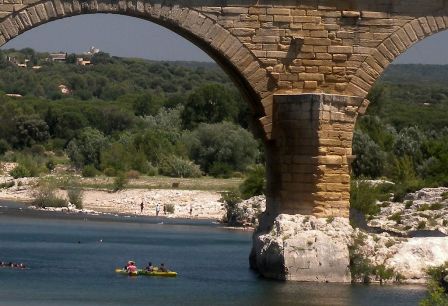 Pont du Gard facts
The famous bridge and aqueduct mesure 275 meters and 48 metres high over the Gardon river. It is the talles Roman bridge - aqueduct in the world. The construction was made with limestone blocks. Well this blocks are blocks with big "B" because it weighing up to six tons each. Don't forget that the aqueduct was built in the year 19 BC and completed only century later in the year 117 AD. At this time there was no heavy duty machines..
More than 2000 years ago the aqueduct was designed to convey water to Nimes, showing the extraordinary know-how of Roman engineers.You will have also the opportunity to learn about the roman civilization through the multimedia kiosks in 2500 square metres museum.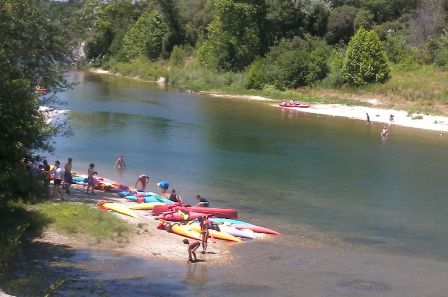 After crossing the bridge and circular walk around the site folow refreshment in the river. If you tirred you can choose sunbathing on the river bank, for all other there are many recreation possibilities like swiming, ciclyng, walking and discover the remains of its aqueduct and enjoy the beauty of the Mediterranean landscape.
Well we took short combination of all enumerated activities and spent a nice day in nature and 2000 years old historical site of Pont du Gard.