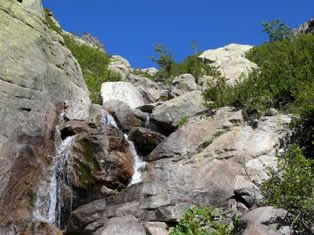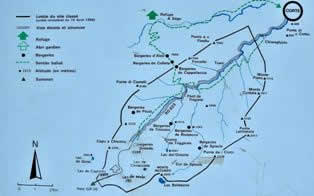 Restonica is actually the name of a gorge with homonymous river. The gorge stretches about 15 km southwest from the town of Corte and ended by Bergeries de Grottelle on about 1375 meters above the sea. Here is place where you have to leave your car on parking place and continue trip on a foot.
During a high sesaon in July and August, there (Parc Naturel Régional's info office) is a shuttle which whisks hikers and walkers up to the park place. Because of attractivity and easy aproach, the Restonica gorge is very crouded in high season. The temperatures at Lac de Melo or Lac du Capitellu can drop below freezing even in summer. So, before you start your route, check the weather forecast for mountain in Corsica and take appropriate cloth.
Lac de Melo - Lake Melo
For one day trip (about 6 houres of walking) here is an suggestion of route: start at 1375m from Bergeries de Grottelle, ascent to Lac de Melo at 1711 and Lac du Capitellu, follow the yellow signs to GR20 routh in the south west directon, follow GR20 about one hour and then descend to the Lac de Melo.
Bergeries de Grottelle is an typical area of stone hut houses, sheeps and shepherds. From here leads a steep path through a rocky crest. The hardest part of path is equipped with metal ladders. After one houre you will reach Lac de Melo.
The place is very nice and many of visitors ended trip wright here enjoying with children the rest and view to the lake and mountains. You will continue another one houre routh following signs to Lac du Capitellu. The forest ends, the landscape opens and all around are impresive granite summits, where dominate crest of capo Chiostro. There in the wall above the lake you should see climbers. The ambient is just alpine like.
Lac du Capitellu and GR20
From Lake du Capitellu follow yellow signs to the GR20 which leads through the crest. Orientation is a bit complicated, just find first the yellow signs or follow the easiest routh to the top of crest. In the foggy weather it is better to end your trip at Lac du Capitellu. On the crest you will catch GR20 path, continue trip through the crest in south direction. The view to the landscape is just great, take a rest and enjoy nature. The return from crest is pretty easy, just follow direction of Lac de Melo and signs. The tour takes about six houres of walk, there is no heavy parts, the orienatation to the crest and back from the crest is a bit pretentiousness it is suitable for experienced and well shaped hikers.