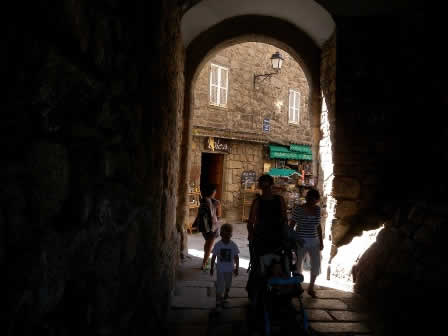 After our sunbathing in Roccapina beach we prolonged our day journey to a city named Sartene. In fact, we combined a stay to the town Sartene with sunbathing on the beach Roccapina. At Roccapina there are large natural rock formations, several in the shapes of animals such as the 'Lion of Roccapina', a small picturesque bay and a large plage.
The town of Sartene is located in south-west Corsica a only some kilometres into the mountains south-east of Propriano and between Porto-Vecchio (to the east) and Ajaccio (to the north-west). Sartene is a commune in the Corse-du-Sud section of France on the isle of Corsica. Its history dates back to medieval period and stonework buildings from the early 16th century still line some of the streets.
Short history of Sartene Corsica
Sartene Corsica has a long history of piracy, banditry and gangsters, now happily largely known to more peaceful occupations. The centre of Sartene is around the Place de la Liberation, before and commonly still known as Place Porta, and with nice views across the valley. The older Governor's Palace is also in the square. The guillotine that formerly found service in the Place has given way to tourists!
We enjoyed a relax in one of the cafes of the Place Porta then descend into the picturesque old town of Santa Anna. Its small streets crammed with a amazing medley of tall ancient houses, linked by arches, arcades and alleys, and occasionally blocked by surprising rocks, which is spread out down the hill below
A myriad of ever narrower passageways and staircases provide a picturesque glimpse of a Corsica that is of course unchanged since plenty of years ago.
What to do in Sartene old town
We visited Sainte Marie church on the edge of the square and the square three storey clocktower. Further significant buildings in the vicinity of the plaza consist of the Town Hall and the Governor's Palace.
Sartene is a beautiful town full of age and character. The place was built as a fortified settlement against raiders in the 1550s. It has left through many raids and tragedies and the past in the older buildings is huge and rich. A lot is untouched and the numerous years of building and rebuilding is evident in the modifications in ramparts and styles throughout different parts of the city.
There are a bunch of severe grey granite buildings in Sartene. We had been driving through serious Mafia, vendetta, separatist countryside. I had find things about not-so-distant vendetta rules that meant if a single woman's skirt lifted in the breeze to reveal her ankle and on the way to a passing man she either had to marry him otherwise be stoned to death. No joke. It wasn't long ago that generations of males and boys could not leave their homes for the reason that of family feuds that meant promising death.