At the end of a long St Florent gulf on the north of Corsica, the village of St Florent sits with its brightly coloured houses along the harbour an lively promenade with boutiques, restaurants and cafes. In summer time these are open till late at night.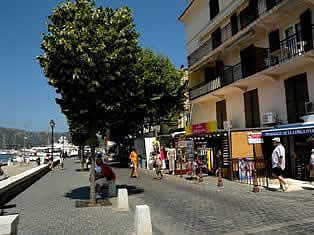 Although it was inhabited in the neolithic era and was an ancient Roman base, the village only really developed in the 15th century around the Genoese fort. The area was marshy and unhealthy however, and was abandoned between the 17th and 19th centuries because of malaria.
One of the main tourists destination in the northeren region of Corsica is St Florent which boasts small yacht harbour and boat services to the wild beaches in the Desert des Agriates. The Cap Corse peninsula is for those who love cliffs or small pebble beaches.Before joining Saint Florent, you will have to crose the Agriates desert. It is not like Sahara or something, nevertheless it is one of the most protected and inaccesible and austere area of Corsica island.
Beaches of St Florent and desert of Agriates
Before some decades back, the French government wanted to instal nuclear testing centre here, but all people in Corsica rose up against it. There in desert of Agriates are almost no houses. The coastline, on the other hand is beloved to many boaters once spring arrives and for good reason. The Alga Marina, Punta de Mignola, the beaches of Malfalcu and Saleccia prove once again that an earthly paradise truly does exist. A sea of exquisite clarity, trees dating back to ancient times, and soft sand. It makes you want to sit down, swim in clear water and thank life for being so generous.
Regardless of the trouble by approach to Salecia beaches, they gets pretty lively in August since lots of locals turn up with their own boats. Anyway the beach is long and you will be able always to locate a peaceable spot. Be sure to bring your own shade, as the sun is cruel.
Saint Florent citadel
Saint-Florent has a small marina sure to meet all needs.It is in this gulf that championship level offshore racing regularly takes place - but that is not the only point of interests. Its Genoese citadel founded in 1439, is worth discovering. Visit the Nebbio cathedral (micro region Nebbio), which was built in the twelfth century and, enjoy a meal at one of the restaurants on the waterfront.
To the north, towards Centuri, you will have the advabtage of driving on the mountain side, instead of on the cliff side something that shouldn't be overlooked! But the unbounded beauty of the view that you will enjoy from the Marine Negru, Nonza, the church Sainte-Julie and its tower, Albo, punta Cinnamon, Barrettali, Minrviu, Pinu and its Saint Lucia pas (381m) and, finaly Centuri will guarantee that you will never forget islad of Corsica.